2015 Reading Challenge


Quotes I Love

© 2011-2013 by Annabelle Lovell. All rights reserved. Powered by
Blogger
.

Thursday, May 14, 2015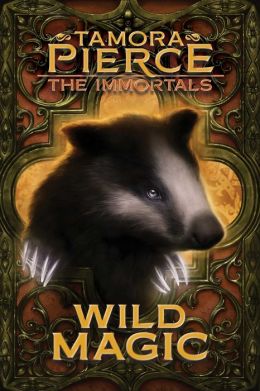 Wild Magic (The Immortals, #1)
Tamora Pierce
Publisher: Atheneum Books for Young Readers
Release Date: September 29, 2015
Source: Publisher
Goodreads | Amazon | Barnes & Noble | The Book Depository
Young Daine's knack with horses gets her a job helping the royal horsemistress drive a herd of ponies to Tortall. Soon it becomes clear that Daine's talent, as much as she struggles to hide it, is downright magical. Horses and other animals not only obey, but listen to her words. Daine, though, will have to learn to trust humans before she can come to terms with her powers, her past, and herself.
CATCHALL
It must first be said that my review of this book and the following three books of the series are not in any way first impressions. I have read these books several times over the years, and only write a review now as I was asked to review these books to celebrate the newest release of the novels. I must admit that I still found this book every bit as magical as I did the very first time I read it.
THE HEROINE
VERALIDAINE SARRASRI
Daine is an incredibly likable heroine. she's brave, she's strong, but she can also be scared and weak, just like anyone else. She's human, and though there may be more to her than meets the eye, she's always willing to fight for her friends, yet she struggles with letting others do the same. Daine also has a strong sense of responsibility and knowing the difference between right and wrong, and she's no coward.
THE TEACHER
NUMAIR SALMALÍN
Number is a silly, funny man who always brings a smile to my face. He's a very powerful mage, and he's maybe a little vain, but overall it doesn't go to his head. He's a unique character—I've yet to come across his like in anything I've read. He's a caring teacher to Daine, and proves himself to be someone she can trust with the dark secrets she's hidden away.
THE PLOT
There's an extremely colorful cast of characters in this book. There's many old favorites, such as Alanna and her husband, the queen, Thayet, even Jonathan. There's also new faces such as Numair and Onua, and the children. It's a joy to read about them, these new and old faces in the Tortall series.
The plot seems straightforward at first, but it's not. There's Daine and her inner struggles, but then there's also something wicked looming on the horizon. It's not as simple as it seems, and though we can tell something bad is going to happen, we're never quite sure what.
Daine's inner turmoil is interesting because we know something about it (she repeatedly claims to have been mad) but we don't know all the details, so we have to keep reading to figure out what it is that could have been so awful. And when we finally learn what it is, it's not simple to grasp what happened.
THE WRITING
Tamora's writing is like honey. Smooth, sweet, and tasteful. It's a pleasure to read something so incredible. There's always humor in her writing, and it's simple but descriptive. I can visualize the monsters she creates so clearly I shudder while reading them. And, as always, her world building is fantastic. It's easy to picture to cliffs and the ocean as she writes them because she uses such vivid descriptive words.
THE ENDING
I love the way this book ends. There's Tamora's signature touch of humor, but it's also a very sweet ending. The conflict is resolved in a very believable way, and Daine has learned more about herself along the way. It's the perfect place to end this book, and I wouldn't change it if I could. She's surrounded by the friends she's made, and she's finally comfortable in her own skin.
WRAPUP
Wild Magic is an incredible, gorgeous book, and I enjoyed it immensely. It's timeless in the way that some books are, enough so that I keep going back to it when I need something dependable to read. There's nothing I like more than curling up with this series, and this first installment really sets the scene for the series.
Welcome!
Welcome to my young adult reading blog! Sparkles and Lightning has young adult book reviews with the occasional children's or adult's book review sprinkled in. It will also be totally and completely fun :) Have a look around, have some laughs, and most of all, have a perfectly sparkly, electric time!

About Me
I'm a university student and ballroom dancer who spends too much time curled up with a good book. Red roses are my favorite and I love a good love story.
View my complete profile

Blog Tours
Want me to be a part of your blog tour? Contact me and let me know.

Blog Love!

Blog Archive

Browse Reviews by Rating

Disclaimer
In accordance with the FTC Guidelines for blogging and endorsements, I am required to state that no payments are received in return for reviews, promotions and endorsements. All books are received at no cost from publishers or purchased by myself. I receive no monetary compensations for anything that appears on Sparkles and Lightning.