2015 Reading Challenge


Quotes I Love

© 2011-2013 by Annabelle Lovell. All rights reserved. Powered by
Blogger
.

Friday, May 8, 2015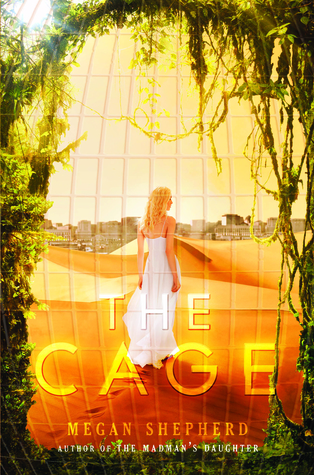 The Cage (The Cage, #1)
Megan Shepherd
Publisher: Balzer + Bray
Release Date: May 26, 2015
Source: Publisher
Goodreads | Amazon | Barnes & Noble | The Book Depository
The Maze Runner meets Scott Westerfeld in this gripping new series about teens held captive in a human zoo by an otherworldly race. From Megan Shepherd, the acclaimed author of The Madman's Daughter trilogy.
When Cora Mason wakes in a desert, she doesn't know where she is or who put her there. As she explores, she finds an impossible mix of environments—tundra next to desert, farm next to jungle, and a strangely empty town cobbled together from different cultures—all watched over by eerie black windows. And she isn't alone.
Four other teenagers have also been taken: a beautiful model, a tattooed smuggler, a secretive genius, and an army brat who seems to know too much about Cora's past. None of them have a clue as to what happened, and all of them have secrets. As the unlikely group struggles for leadership, they slowly start to trust each other. But when their mysterious jailer—a handsome young guard called Cassian—appears, they realize that their captivity is more terrifying than they could ever imagine: Their captors aren't from Earth. And they have taken the five teenagers for an otherworldly zoo—where the exhibits are humans.
As a forbidden attraction develops between Cora and Cassian, she realizes that her best chance of escape might be in the arms of her own jailer—though that would mean leaving the others behind. Can Cora manage to save herself and her companions? And if so . . . what world lies beyond the walls of their cage?
CATCHALL
The Cage wasn't a terrible book, but obviously, I didn't exactly enjoy it either. There were some great things about the book—the writing was exquisite…but then some things were questionable. Overall, while it wasn't the worst book I've ever read, I really can't say as many great things about it as I wish I could.
THE HEROINE
CORA
Cora was…let's see. Incredibly frustrating. She wants to fight back, but there's nothing tangible for her to fight against, not really. I admire her for her resolve, but she's too impulsive and doesn't really think things through. I didn't like her very much, and I wish she had been more willing to see things from other perspectives other than her own.
THE LOVE INTERESTS
LUCKY
I genuinely like Lucky, and the way he struggles with himself is heartbreaking. He really wants to do the right thing, but he's made some mistakes in the past. And that's okay. He has to fight with himself to move past them and forgive himself. He's sweet, and he really cares about Cora, even if I think he doesn't always see her as she is.
CASSIAN
I didn't like Cassian from the beginning, and I like him even less knowing what I know now about him. He's creepy, and feels like a character from nightmares. We never get to see the story through his eyes, like we do the others, and yet it isn't difficult to feel like we know him well by the end of the novel.
THE SECONDARY CHARACTERS
NOK
Nok is an enigma. She does what she feels she has to do to survive, and what she does isn't always something most people would agree with. I certainly don't. Even so, I have to admire Nok's resiliency. She bounces back quickly form a crying mess to a girl who can hold her own.
ROLF
Rolf is someone who would never had become a leader in the real world, but up in the prison, he somehow takes up the mantle. He's troubled, and struggles a lot with who he is, but he learns to accept himself.
LEON
Leon is an interesting character. Cora thinks he goes insane, but I don't think he ever truly does. It's hard to say. But the little of the story we see through his eyes is lucid and descriptive, and very crystal clear.
MALI
Mali is a bit of an unexpected character. She isn't who I thought she would be. She seems like an obedient, loyal Kindred minion, but she's more than that. That doesn't mean she's not obedient or loyal, but she has her fair share of character development.
THE PLOT
The plot wasn't all that hot, in my opinion. It's meant, I think, to twist and turn more than it does, but ended up being laughably predictable. I don't mean that in a horrible way; I just mean that sometimes things that I think were supposed to be big reveals just aren't that shocking, and so the story loses some of its value in this way.
Cora's plan also seemed really ill-conceived. What there was of the plan, that is. But maybe I'm just too complacent. I wouldn't have fought in the way she does at all. It's risky, and yet she's willing to fight for her freedom. There is something to admire in that, but she acts so rashly and one might say foolishly.
Still, the concept of this book is incredible, and it gets credit for that. It's unique and enthralling, and really helped draw me in even at the parts of the book where I was tempted to throw it across the room. Even if parts of it were confusing, like why all the aliens speak English (even to each other, which seems weird).
In the end, though, the plot of this book just wasn't all it could have been to me. It just feels off somehow. Maybe because Cora's attempts at escape feel so foolish, I'm not sure. In any case, it's almost difficult to take this book seriously.
THE ROMANCE
The romance completely creeped me out. Cassian has basically stalked Cora for part of her life, which is just creepy. I don't care if that's given him feelings for her, it seems wrong. Cora, for her part, clearly is attracted to him, but that attraction doesn't seem to run very deep. Then there's the whole thing with Lucky. I like Lucky, and I feel sorry for him because of the way Cora treats him, but I don't thinks they're right for each other, either.
THE WRITING
The writing is the one thing in this novel that did not disappoint at all. The world-building is on-point, to the point where I can practically visualize the rolling hills and endless ocean of the prison, to the clean-cut and sterile world of the Kindred. The descriptive language is flawless. Each character also has a very unique voice. It helps keep the book grounded.
THE ENDING
I really like the way the book ended, actually. While not entirely unexpected, it gives the reader a new perspective. Cora and those with her face a difficult truth, and Cora makes an oath she's certainly determined to fight to keep. I think the book ended on an excellent note compared to the rest of the story and I might even call myself impressed.
WRAPUP
I'll probably be continuing this series out of some kind of morbid curiosity, but with some hesitation. I have hope that this series will improve, now that Cora has learned so many things and what she has done. I really hope the next book improves because this series has a lot of potential and could definitely be a lot more than this book gave us.
**FINAL RATING: 2.25 RED ROSES**
Welcome!
Welcome to my young adult reading blog! Sparkles and Lightning has young adult book reviews with the occasional children's or adult's book review sprinkled in. It will also be totally and completely fun :) Have a look around, have some laughs, and most of all, have a perfectly sparkly, electric time!

About Me
I'm a university student and ballroom dancer who spends too much time curled up with a good book. Red roses are my favorite and I love a good love story.
View my complete profile

Blog Tours
Want me to be a part of your blog tour? Contact me and let me know.

Blog Love!

Blog Archive

Browse Reviews by Rating

Disclaimer
In accordance with the FTC Guidelines for blogging and endorsements, I am required to state that no payments are received in return for reviews, promotions and endorsements. All books are received at no cost from publishers or purchased by myself. I receive no monetary compensations for anything that appears on Sparkles and Lightning.