2015 Reading Challenge


Quotes I Love

© 2011-2013 by Annabelle Lovell. All rights reserved. Powered by
Blogger
.

Thursday, May 7, 2015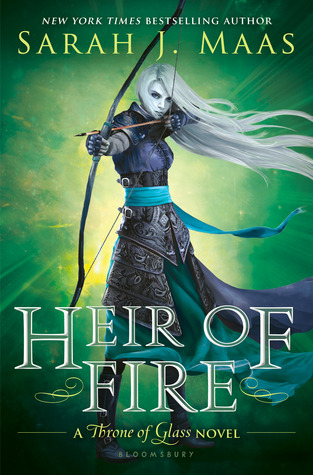 Heir of Fire (Throne of Glass, #3)
Sarah J. Maas
Publisher: Bloomsbury USA Childrens
Release Date: September 2, 2014
Source: Purchased
Goodreads | Amazon | Barnes & Noble | The Book Depository
Lost and broken, Celaena Sardothien's only thought is to avenge the savage death of her dearest friend: as the King of Adarlan's Assassin, she is bound to serve this tyrant, but he will pay for what he did. Any hope Celaena has of destroying the king lies in answers to be found in Wendlyn. Sacrificing his future, Chaol, the Captain of the King's Guard, has sent Celaena there to protect her, but her darkest demons lay in that same place. If she can overcome them, she will be Adarlan's biggest threat – and his own toughest enemy.

While Celaena learns of her true destiny, and the eyes of Erilea are on Wendlyn, a brutal and beastly force is preparing to take to the skies. Will Celaena find the strength not only to win her own battles, but to fight a war that could pit her loyalties to her own people against those she has grown to love?
CATCHALL
How do I love thee? Let me count the ways. There are many, many ways. Words alone cannot describe how incredible this book was. It is, without a doubt, easily in my top ten favorite books of all time. Maybe even top five. The characters are strong, the plot is exquisite, and the story flows right along. There's even a touch of romance.
THE HEROINE
CALAENA SARDOTHIEN
Celaena is just as badass in this book as she is is the first two. Yet she has her weaknesses. She's not a natural at everything, but with practice and hard work, she gets to the point where you can hardly tell. Celaena is strong, but she's still recognizably human, and that's one of the things that makes her who she is. She's far from perfect, but she knows that. And her character development is incredible. She struggles with herself, and who she is, but she's finally starting to see that.
THE SECONDARY CHARACTERS
PRINCE ROWAN WHITETHORN
Do you know I can't remember the last time I loved a character this much? There's no way it's healthy, but here I am. Rowan is everything you'd expect of a fake prince on the outside: perfect, dangerous, and cunning. But on the inside, while he might still be some of those things, we can see that he, too, is flawed. He's not perfect, and he definitely has inner turmoil. Yet he slowly learns to work through it.
CAPTAIN CHAOL WESTFALL
Chaol is a charmer, I think, because as a character he managed to win me over in this book. He's made a huge sacrifice, for one thing, and he's finally starting to see the implications of it. He's not going to give in easily, though. He struggles with his loyalties, and questions who is the right person to follow.
PRINCE DORIAN HAVILLARD
Dorian goes through a lot of growth in this book. Where once he was definitely no more than a foolish boy, his magic has forced him to grow up quickly, and he's learning that he must question everything. He wants to do one thing, but cannot help but do another at times. Dorian learns some lessons the hard way, and while it might not be easy, it helps his grow.
AEDION ASHRYVER
Aedion is maybe one of my favorite characters, ever. He's done a lot of questionable things, and he isn't proud of it, but he's done what he had to do to stay alive, and sometimes that's all you can do in his world. Aedion is one of the most fiercely loyal characters in this book, and he knows that he must continue to play his part if he wants to see his cousin restored. He struggles internally, but he's not the type to let it show.
SORSCHA
I never expected to love Sorscha as much as I did, or grow so attached to her. While I felt her character was a little underdeveloped, and some things about it confusing, I still adored her. She's braver than she looks, and she's willing to do a lot for both Dorian and herself. But she's not selfish at all, and she's so strong. Sorscha really is a powerful character, made more powerful by what she does near the end of the novel.
MANON BLACKBEAK
I have mixed feelings about Manon. On one hand, I admire her for her determination, but on the other she's so extreme that I have difficulty relating to her. She's ruthless, and it suits her, but makes her a very unreachable character. Still, she plays her part well, and she's certainly determined. She doesn't stop until she gets what she wants, no matter what it is.
THE PLOT
If there are sufficient words to describe the plot of this novel in English, I don't know them. This book was absolutely heartwrenching. It's beautiful, but there's sadness mixed in with all the happiness and the beautiful parts. Which is as it should be.
Sarah likes to peel back one layer of mystery away at a time—which is fine by me. It makes for an incredibly interesting story. There's still so much we don't know, and this book isn't huge on revealing pieces of the puzzle, which is just as well. There's so much else going on that adding more to the story might just be too much!
That doesn't mean there's nothing going on, however. There's a lot going on. There's a new army forming, for one thing—one kept secret, one that Celaena doesn't know about. There's Dorian and his magic, and there's Celaena and her struggle to prove herself so she can learn more and unlock pieces of the puzzle.
Somehow, even though this plot is far from traditional, it managed to keep my interest very well. It's not fast-paced, and yet it reads that way. It's a very difficult book to put down.
THE ROMANCE
This book only has a touch of romance (some people would say none) but in my opinion it's there. It's very soft and doesn't call attention to itself, but the beginnings of a new relationship are often like that. It's very sweet and gentle, and I like the way it really develops slowly, rather than immediately. It makes it seem more real, and more likely to be lasting. There's also a romance with the prince and the healer—something that could have been cliché, but in the end was anything but.
THE WRITING
Sarah's writing is among the best I've ever read. She adds more voices in this book, and with them, we can see the diversity in her writing. It's gorgeous. The characters each grow into themselves through Sarah's writing. It's descriptive, and really helps set the scene where the story takes place. It's like you can visualize the beauty of Wendlyn and the harshness of Adarlan.
THE ENDING
I loved the way this book ended. It's bittersweet, since there's some sadness, but there's also a ray of hope. Not everything went as expected, or as planned, yet it's not over till it's over. I feel sad that certain things happened, but I think they had to. And with the end, this part of the story was neatly wrapped up and waiting for the next era of the story to continue. Not a killer cliffhanger in the traditional sense, but it left me with a sense of wanting nonetheless.
WRAPUP
Heir of Fire was an incredible, amazing book, and I cannot wait for Queen of Shadows to be released. With stunning characters, a gorgeous setting, and a wickedly cool plot, this book won my heart easily. I'll definitely read whatever Sarah releases for the rest of forever, and happily so.

Welcome!
Welcome to my young adult reading blog! Sparkles and Lightning has young adult book reviews with the occasional children's or adult's book review sprinkled in. It will also be totally and completely fun :) Have a look around, have some laughs, and most of all, have a perfectly sparkly, electric time!

About Me
I'm a university student and ballroom dancer who spends too much time curled up with a good book. Red roses are my favorite and I love a good love story.
View my complete profile

Blog Tours
Want me to be a part of your blog tour? Contact me and let me know.

Blog Love!

Blog Archive

Browse Reviews by Rating

Disclaimer
In accordance with the FTC Guidelines for blogging and endorsements, I am required to state that no payments are received in return for reviews, promotions and endorsements. All books are received at no cost from publishers or purchased by myself. I receive no monetary compensations for anything that appears on Sparkles and Lightning.