2015 Reading Challenge


Quotes I Love

© 2011-2013 by Annabelle Lovell. All rights reserved. Powered by
Blogger
.

Tuesday, May 5, 2015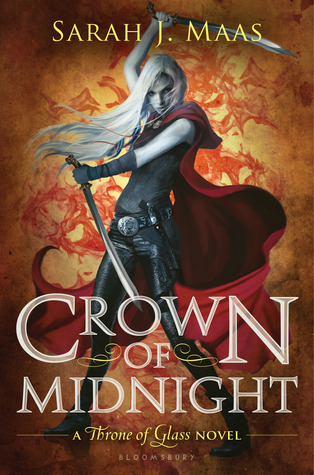 Crown of Midnight (Throne of Glass, #2)
Sarah J. Maas
Publisher: Bloomsbury USA Childrens
Release Date: August 27, 2013
Source: Publisher
Goodreads | Amazon | Barnes & Noble | The Book Depository
"A line that should never be crossed is about to be breached.
It puts this entire castle in jeopardy—and the life of your friend."
From the throne of glass rules a king with a fist of iron and a soul as black as pitch. Assassin Celaena Sardothien won a brutal contest to become his Champion. Yet Celaena is far from loyal to the crown. She hides her secret vigilantly; she knows that the man she serves is bent on evil.
Keeping up the deadly charade becomes increasingly difficult when Celaena realizes she is not the only one seeking justice. As she tries to untangle the mysteries buried deep within the glass castle, her closest relationships suffer. It seems no one is above questioning her allegiances—not the Crown Prince Dorian; not Chaol, the Captain of the Guard; not even her best friend, Nehemia, a foreign princess with a rebel heart.
Then one terrible night, the secrets they have all been keeping lead to an unspeakable tragedy. As Celaena's world shatters, she will be forced to give up the very thing most precious to her and decide once and for all where her true loyalties lie...and whom she is ultimately willing to fight for.
CATCHALL
Wow. This book was…incredible. I honestly had no words when I closed the final page. There is so much character growth, so much plot thickening, and so much much overall fun and yet with an underlying sense of darkness. This book was everything I could have asked for, and more. There were some things I didn't understand, but overall, this book was a thrill ride I never want to get off.
THE HEROINE
CELAENA SARDOTHIEN
Okay, Celaena was just as awesome in this book as she has been for the throughout her career as an assassin. She's bold, brave, but she's also afraid. She has real fears that she's not good enough, that she's not strong enough, that she's not fearless enough, and that to me makes her real. Celaena doesn't always want to do what she knows she should, because maybe it's not the easy thing or even the thing she wants. She's achingly real and she does learn a lot about herself as we learn about her too.
THE SECONDARY CHARACTERS
CAPTAIN CHAOL WESTFALL
I didn't like Chaol in the first book, and I make no secret of that. In this book, I wouldn't say I fall for him, but I learned a lot about him and I did grow to like him. He's good for Celaena, at least at first, and he has his own set of troubles to overcome. I don't agree with the way he does everything, but he truly does what he believes is best and I can't fault him for that.
PRINCE DORIAN HAVILLARD
I really stopped seeing Dorian as a love interest in this book. He's kind, and he's determined, but I don't think he's the one for Celaena. Of course, I still don't think Chaol is either, but that's neither here nor there. Dorian is one of the most well written characters I've ever read, because he goes from the immaturity of a boy to having to grow up very quickly when he discovers something new about himself.
PRINCESS NEHEMIA YTGER
Nehemiah is a powerful character who knows what she must do and does it, even if it's not the easy thing. She's the opposite of Celaena in that way, and I think that's why they're such good friends. Nehemiah made me cry at multiple points in this story. She's easily the most notable character in this book and she's going to be important in the future, as well.
THE PLOT
There were some things I didn't understand. There were some awkward moments in the plot when certain things didn't seem to fit. But that's all the bad there was, if you could even call that bad. And now that's all out of the way!
Despite being a rather long book, it reads easily and quickly. It's fast-paced at some points, so you move through without even noticing how far you've really read. Even at the places it moves more slowly, you can't help but be drawn in so again, the book reads very quickly.
There's an element of mystery throughout the book, which I loved. You never know quite what's going on behind the scenes, and there's a lot of things that take time to figure out, both for the reader and Celaena and her friends. I liked the way things were uncovered slowly, and how Celaena had to put the pieces together herself.
THE ROMANCE
Chaol and Celaena. I warmed up to the idea a little in this book, but by the conclusion I had decided once again that I don't like them together. And that's fine, I don't have to. However, even I can appreciate the quality of the romance and the way it was written. It's cute, it's fun, it's sexy. There's a lot to love about the way it all comes together, and about its dramatics towards the end of the book. I think it ran its course, in my opinion.
THE WRITING
Sarah's writing has only improved since book one, and Celaena's voice only grown stronger, though she is not the one to tell us the story. The voices of the other characters come through as well, making us understand them better. It's a treat to read a book so beautifully written, and I have nothing negative to say about the writing. It's spun gorgeously.
THE ENDING
This book ended on the perfect note. I wasn't too thrown, I expected it a little, but it's still always nice to be proved right. Anyway, the book comes to its perfect conclusion. It wraps up one part of the story, while leaving the way perfectly paved for the next. In that way, it's a cliffhanger without being too cliffhanger-y, if that makes any sense.
WRAPUP
I was very satisfied with this book all in all, and I'll definitely be going back to it to reread some of my favorite parts. It's an incredibly satisfying novel, and I really don't have much bad to say about it. It stole my heart and ripped it to shreds, and I'm surprisingly okay with that.
Welcome!
Welcome to my young adult reading blog! Sparkles and Lightning has young adult book reviews with the occasional children's or adult's book review sprinkled in. It will also be totally and completely fun :) Have a look around, have some laughs, and most of all, have a perfectly sparkly, electric time!

About Me
I'm a university student and ballroom dancer who spends too much time curled up with a good book. Red roses are my favorite and I love a good love story.
View my complete profile

Blog Tours
Want me to be a part of your blog tour? Contact me and let me know.

Blog Love!

Blog Archive

Browse Reviews by Rating

Disclaimer
In accordance with the FTC Guidelines for blogging and endorsements, I am required to state that no payments are received in return for reviews, promotions and endorsements. All books are received at no cost from publishers or purchased by myself. I receive no monetary compensations for anything that appears on Sparkles and Lightning.