2015 Reading Challenge


Quotes I Love

© 2011-2013 by Annabelle Lovell. All rights reserved. Powered by
Blogger
.

Thursday, May 21, 2015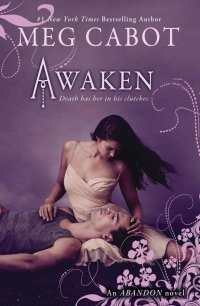 Awaken (Abandon, #3)
Meg Cabot
Publisher: Point
Release Date: July 2, 2013
Source: Publisher
Goodreads | Amazon | Barnes & Noble | The Book Depository
From #1 New York Times bestselling author Meg Cabot, the dark reimagining of the Persephone myth comes to a thrilling conclusion.
Death has her in his clutches. She doesn't want him to let her go. Seventeen-year-old Pierce Oliviera knew by accepting the love of John Hayden, she'd be forced to live forever in the one place she's always dreaded most: the Underworld. The sacrifice seemed worth it, though, because it meant she could be with the boy she loves.
But now her happiness—and safety—are threatened, all because of the Furies have discovered that John has broken one of their strictest rules: Never revive a human soul.
If the balance between life and death isn't fixed, both the Underworld and Pierce's home back on earth will be wiped away. But there's only one way to restore order. Someone has to die.
CATCHALL
Awaken is without a doubt my favorite Meg Cabot book thus far, and a true jewel. I absolutely devoured it. From start to finish, it was a ride I was happy to be on. I simply couldn't get enough of it. When I read the last page, I flipped back to the first. It was that amazing.
THE HEROINE
PIERCE
Pierce is my girl. I adore her. She's strong and smart, and though she doesn't always make the smartest decisions she does what she does for a reason and isn't stupid about it. She's a real person, and she makes real mistakes and has to fix them. But she also has a good heart, and though it's gotten her in trouble, it's also gotten her out of it, too.
THE LOVE INTEREST
JOHN
John is one of the sexiest characters I've ever read about. and I have very much appreciation for that. But he's more than a gorgeous face. He wants to do the right thing, but sometimes he needs help figuring out what that is. Moreover, he genuinely care about Pierce and he's so, so sweet to her. I think I actually melted at some points in the book.
THE PLOT
I love the way Meg handles the retelling of the Persephone myth. It's not so much a retelling as a reimagining, and it's done with absolutely beauty and a bit of humor. I love the way the story unfolds, and though there's not a much retelling in this last book, what is there is gorgeous.
Pierce is a string heroine, and though she doesn't always make the right decisions, she tries her best to. This book strongly deals with the consequences of her actions, and she's strong enough to face up to them. She doesn't shrink away, and in fact often tries to take more blame upon herself than is strictly necessary.
There's also the secondary plot in this book, which is a really interesting one. Almost as interesting as the main plot. I liked watching Pierce and her friends fight for what was right.
THE ROMANCE
The romance is tastefully written, and it's sweet and intoxicating at the same time. Pierce and John are good together, and in some ways balance each other out. They really complement each other. Where Pierce is impulsive, John thinks things through more, and so forth. They're so good together, and I loved watching them grow as a couple. The secondary romance was also so, so cute.
THE WRITING
Meg's writing has improved a lot since her earlier series, and that growth is apparent in this book. The descriptions could use some work, but the world-building is awesome. It's set partially in a fantasy place in our world and partially in the Underworld, and Meg does an awesome job of differentiating the two.
THE ENDING
This book ended on a perfect note. It's absolutely beautiful. I love the way everything pulled together, neatly but not too neatly, if you catch my drift. It's like everything happened for a reason so that everything could lead up to this perfect ending, and I loved every minute of it.
WRAPUP
Awaken is one of my favorite ever books, and the absolute best Meg Cabot I've ever read. I seriously only have good things to say about it. Pierce and John are unforgettable characters, and I'll probably think of them often. I definitely recommend this series to fans of romance, and fans of mythology. It's a gorgeous retelling.

*****FINAL RATING: 4.65 RED ROSES*****





Lovelovelove,
Welcome!
Welcome to my young adult reading blog! Sparkles and Lightning has young adult book reviews with the occasional children's or adult's book review sprinkled in. It will also be totally and completely fun :) Have a look around, have some laughs, and most of all, have a perfectly sparkly, electric time!

About Me
I'm a university student and ballroom dancer who spends too much time curled up with a good book. Red roses are my favorite and I love a good love story.
View my complete profile

Blog Tours
Want me to be a part of your blog tour? Contact me and let me know.

Blog Love!

Blog Archive

Browse Reviews by Rating

Disclaimer
In accordance with the FTC Guidelines for blogging and endorsements, I am required to state that no payments are received in return for reviews, promotions and endorsements. All books are received at no cost from publishers or purchased by myself. I receive no monetary compensations for anything that appears on Sparkles and Lightning.