2015 Reading Challenge


Quotes I Love

© 2011-2013 by Annabelle Lovell. All rights reserved. Powered by
Blogger
.

Wednesday, March 6, 2013
Ah, hello. Especially to any first-time visitors! It's lovely to meet you and I hope you enjoy your stay. Today's post is Waiting on Wednesdays, brought to you especially by Jill at Breaking the Spine. If you're unfamiliar with this meme, it's used by many book bloggers to obsess over the books we're dying to own!
Game (Jasper Dent, #2)
Barry Lyga
Publisher: Little, Brown Books for Young Readers
Release Date: April 16, 2013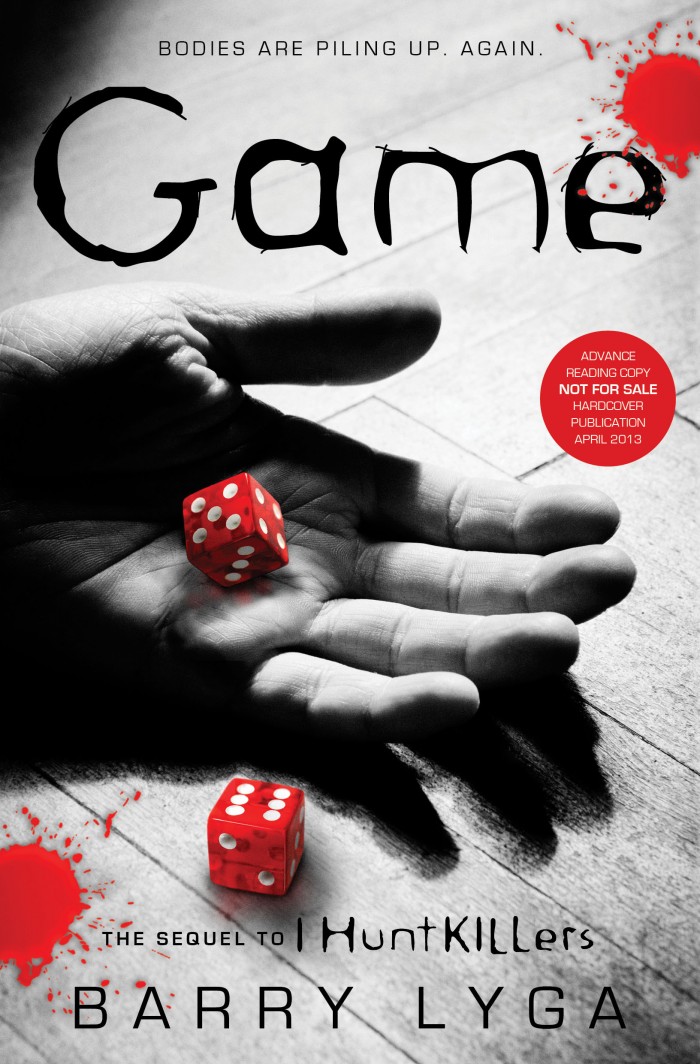 Billy grinned. "Oh, New York," he whispered. "We're gonna have so much fun."
I Hunt Killers introduced the world to Jazz, the son of history's most infamous serial killer, Billy Dent.
In an effort to prove murder didn't run in the family, Jazz teamed with the police in the small town of Lobo's Nod to solve a deadly case. And now, when a determined New York City detective comes knocking on Jazz's door asking for help, he can't say no. The Hat-Dog Killer has the Big Apple–and its police force–running scared. So Jazz and his girlfriend, Connie, hop on a plane to the big city and get swept up in a killer's murderous game.
Well, there are many reasons I'm looking forward to themselves. One, I am so in love with Jazz. He's almost ridiculously sexy and wholly lovable, being just the right amount of messed up. Also, I Hunt Killers was one of my favorite books of, well, ever. And it ended on a hugely cliffhanger that left me breathless. I need to know what happens next! I also love this cover. It matches the first one perfectly and the color scheme is perfect.
I really hate Connie, but whatever. I guess I'll have to deal with her. And maybe she'll become more likable. Who knows?
Although, it is completely Barry Lyga's fault that I absolutely cannot stand knives in sinks anymore. I have to wash them right away and put them away. I cannot just leave them there. When I find knives left in the sink, I commence freaking out before putting them away. This has also caused my boyfriend to text me pictures of knives in sinks regularly just to freak me out, which Barry Lyga actually finds awesome.
However, this book will be worth whatever horrible fear it ends up giving me. The first one was!
Lovelovelove,

What are you waiting on this Wednesday?
Link me up! :)
Welcome!
Welcome to my young adult reading blog! Sparkles and Lightning has young adult book reviews with the occasional children's or adult's book review sprinkled in. It will also be totally and completely fun :) Have a look around, have some laughs, and most of all, have a perfectly sparkly, electric time!

About Me
I'm a university student and ballroom dancer who spends too much time curled up with a good book. Red roses are my favorite and I love a good love story.
View my complete profile

Blog Tours
Want me to be a part of your blog tour? Contact me and let me know.

Blog Love!

Blog Archive

Browse Reviews by Rating

Disclaimer
In accordance with the FTC Guidelines for blogging and endorsements, I am required to state that no payments are received in return for reviews, promotions and endorsements. All books are received at no cost from publishers or purchased by myself. I receive no monetary compensations for anything that appears on Sparkles and Lightning.