2015 Reading Challenge


Quotes I Love

© 2011-2013 by Annabelle Lovell. All rights reserved. Powered by
Blogger
.

Thursday, February 7, 2013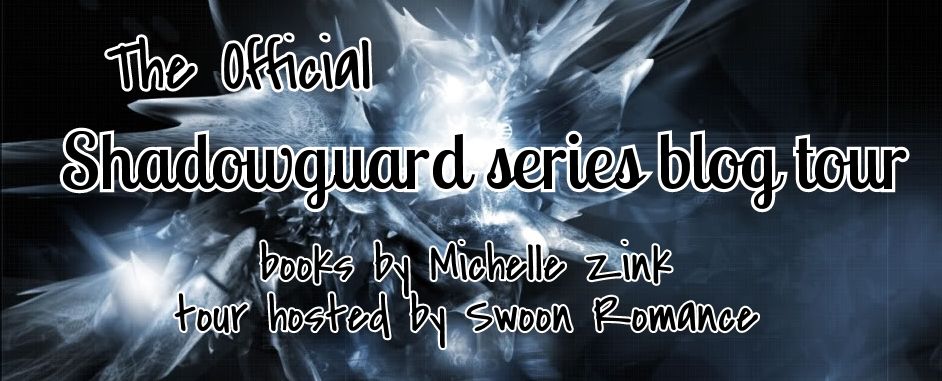 Hey there lovelies! Today I'm hosting a stop on the Shadowguard series blog tour. For my stop I have a review and a giveaway.
❦❦❦❦❦❦❦❦❦❦❦❦❦❦❦❦❦❦❦❦❦❦❦❦❦❦❦❦❦❦❦❦❦❦❦❦❦❦❦❦❦❦❦❦❦❦❦❦❦
Temptation's Heat (The Shadowguard, #1)
Michelle Zink
Publisher: Swoon Romance
Release Date: December 4, 2012
Source: Publisher
NY Times and USA Today best-selling author of LOSING IT, Cora Carmack says,"Before reading TEMPTATION'S HEAT, I wouldn't have thought it possible to create a paranormal romance with great characterization, interesting relationships, and strong world-building in only seventy pages. I'm happy to say Michelle Zink definitely proved me wrong! Scarlet was the ultimate kick-ass heroine. Rowen Black was nothing short of sinful, and I am so relieved that the Shadowguard world is continuing as a series. To put it simply: Worth. Every. Penny."
When Rowen Black is assigned to the elite unit of angelic assassins known as the Shadowguard, he thinks his biggest challenge will be overcoming his less-than-stellar reputation. But that's before he meets his match in Scarlet Montgomery.
Beautiful, strong, and with a temper to match Rowen's own, Scarlet is focused on the Shadowguard and her possible future as its leader. She's become an expert at keeping her personal life separate from the Guard, all too aware that as the boss's daughter, fellow warriors see her not as someone to be respected, but as someone to be protected.
Avoiding entanglements gets a lot harder when Rowen saunters into the room. Rowen puts the bad in "bad boy." Their connection is hot, visceral, and instantaneous.
When the pair are assigned to a joint investigation, they come face-to-face with their undeniable attraction, forcing Scarlet to consider that the connection is not only physical, but a destiny written in the halls of time.
❦❦❦❦❦❦❦❦❦❦❦❦❦❦❦❦❦❦❦❦❦❦❦❦❦❦❦❦❦❦❦❦❦❦❦❦❦❦❦❦❦❦❦❦❦❦❦❦❦
Temptation's Kiss (The Shadowguard, #2)
Michelle Zink
Publisher: Swoon Romance
Release Date: December 4, 2012
Source: Publisher


Lily Montgomery is perfectly happy taking care of everyone else. That is, until her friendship with Shadowguard warrior, Kane Dawson, begins to blossom into something more.
But Lily has a secret. One that will keep her from ever making her feelings known to Kane.
One of the Shadowguard's fiercest warriors, Kane has a soft spot for Lily. A long-standing member of the Shadowguard, he can't figure out when his feelings for Ambrose Montgomery's youngest daughter morphed from brotherly affection into desire and an unfamiliar longing that feels a lot like love.
Kane holds himself in check knowing that Lily deserves better. A man in a suit, dinner at six every night, rosy-cheeked children who won't have to worry that their father might be killed by one of the Legion's wraiths.
But when the pair are thrown together by a set of circumstances beyond their control, they are forced to confront their growing passion and decide if love is worth the risk of baring it all.
❦❦❦❦❦❦❦❦❦❦❦❦❦❦❦❦❦❦❦❦❦❦❦❦❦❦❦❦❦❦❦❦❦❦❦❦❦❦❦❦❦❦❦❦❦❦❦❦❦
Note that this is a JOINT REVIEW of Temptation's Heat and Temptation's Kiss.
CATCHALL
I'm very familiar with Michelle's YA writing, so when I heard she was writing some adult romance I knew I had to check it out and hope I would love it. I was most definitely not disappointed. These books are steamy, hot, and everything you need in a romance. They're a bit alpha-male-prototype, but that's part of what makes them so damn fun.
The characters occasionally make cross-appearances but I've put which book is really their book in their character headers.
THE HEROINES
SCARLET OF TEMPTATION'S HEAT
Scarlet is most definitely a badass. She doesn't listen to anything or anyone. Scarlet has a temper that she isn't afraid to let lose. She's a confident, independent women, but she also has a vulnerable side. She doesn't want people to see that side of her. She wants to gain respect in her own right.
LILY OF TEMPTATION'S KISS
Lily is the type of girl who'd rather take care of others than anything else. She's sweet and on the outside appears to be the epitome of innocence. Little does anyone know that underneath her exterior she's harboring dark, dark secrets. I was surprised by her inner darkness, but she doesn't let it totally control her. It frightens her, but she still wants to try to live her life.
THE HEROES
ROWEN OF TEMPTATION'S HEAT
Rowen is a bad boy through and through. But he also craves respect, and he wants people to think well of him. Even so, giving up old ways isn't easy. He can't tame his inner bad boy. He's very…sinful. Dark. Brooding. But at the same time, he can also be tender.
KANE OF TEMPTATION'S KISS
Kane is the warrior type. Fierce. Cunning. Deadly. He loves what he does and he's never really imagined doing anything else. But he has a soft spot for Lily. He loves her, but he loves her enough that he realizes that he probably isn't good enough for her. That to me showed how much he truly cared for her and cemented my good opinion of him.
THE PLOT
While these are absolutely romances, they're also so much more than that. Yes, romance is definitely a large focus of these novels. Again, romance novels. However, they're still absolutely wonderful regarding other plots and details.
There's so much family dynamic to this one in the way all the characters are connected. Lily and Scarlet both have fathers who are high up in the rankings, and that gives them special privilege. Thing is, neither of them necessarily wants it. They are both their own people and don't need those ties to define them, though they are still of course a part of who they are.
Rowen wants to clean up his past and gain respect. Lily wants to keep her secrets hidden. Everybody has something. Everybody wants something. Sometimes those things collide. Sometimes they don't.
It's reasonably fast-paced. Things move pretty quickly in the Shadowguard world. There's always something going on that's more all-encompassing than the romance, some kind of side story that becomes more important than it first seems. It throughly grasped my interest and I loved every moment of reading this.
There's honestly not much more to say here without getting spoiler, so I'll keep everything short and sweet and move on.
THE ROMANCE
The romances are very different. While they're both steamy, they start off very differently. With Scarlet and Rowen, it's all about instant chemistry and heated kisses. With Lily and Kane, it's a friendship that's recently started to blossom into something more. And despite how different they are, I adore them both and could definitely not choose a favorite. They both sparkle through the pages, and they go far deeper than just the physical.
THE WRITING
Michelle is an absolutely wonderfully talented writer, and these books have proved to be no exception. All of her characters are described in such detail that I really feel as if I know them. They have their own backgrounds, their own reasons for doing the things they do. And I love the world-building. Everything is described so gorgeously, and she makes sure to tell us enough about the world without ever making it feel excessive.
THE ENDING
Both books end on a cute yet imperfect note, which I love. There's never going to be zero conflict, but together they can work through it all. I loved that they had real closure thought, and though you can tell there's more to come for these couples you don't need to know it all to be 100% satisfied with the ending.
WRAPUP
You can bet that I'll be picking up the last installment of this series. It's hot, sexy, and everything I look for in a good old-fashioned romance novel. While it's probably not for everyone, I definitely recommend it to romance lovers. I myself happen to be a huge Michelle fan so she could probably write about the most mundane thing in the world and I'd buy it. But seriously, these two books were fabulous.

****FINAL RATING: 4.35 RED ROSES****




❦❦❦❦❦❦❦❦❦❦❦❦❦❦❦❦❦❦❦❦❦❦❦❦❦❦❦❦❦❦❦❦❦❦❦❦❦❦❦❦❦❦❦❦❦❦❦❦❦

And now I have up for grabs copies of the third book, Temptation's Fire! Since hopefully you've gone out and grabbed the first two.
You know you need these books. These covers are absolutely delicious and I completely adore them.
a Rafflecopter giveaway

Welcome!
Welcome to my young adult reading blog! Sparkles and Lightning has young adult book reviews with the occasional children's or adult's book review sprinkled in. It will also be totally and completely fun :) Have a look around, have some laughs, and most of all, have a perfectly sparkly, electric time!

About Me
I'm a university student and ballroom dancer who spends too much time curled up with a good book. Red roses are my favorite and I love a good love story.
View my complete profile

Blog Tours
Want me to be a part of your blog tour? Contact me and let me know.

Blog Love!

Blog Archive

Browse Reviews by Rating

Disclaimer
In accordance with the FTC Guidelines for blogging and endorsements, I am required to state that no payments are received in return for reviews, promotions and endorsements. All books are received at no cost from publishers or purchased by myself. I receive no monetary compensations for anything that appears on Sparkles and Lightning.