2015 Reading Challenge


Quotes I Love

© 2011-2013 by Annabelle Lovell. All rights reserved. Powered by
Blogger
.

Saturday, February 23, 2013

Happy Saturday, everyone! I have another blog tour stop today, which I am very excited about. Today the stop is for Root Bound, a delightful fantasy. For my stop I'll be reviewing Root Bound and including giveaways.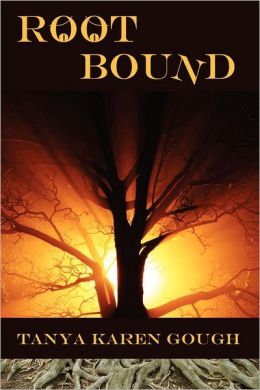 Root Bound (Emma and the Elementals, #1)
Tanya Karen Gough
Publisher: Baba Yaga Press
Release Date: June 3, 2012
Source: Blog Tour
Goodreads | Amazon | Barnes & Noble | The Book Depository
How far will you go to find your way home?
Emma and her father are always on the move, travelling from place to place as her father's work demands. Their new home, however, is different. There's a frightening woman who lives down the hall: she bears an uncanny resemblance to a witch. A mysterious light comes from her apartment, and a small boy seems to be trapped inside.
School in this town is no happy place either, with an odd principal and a gang of girls who make tormenting Emma their special project. And strangest of all is the fact that there seem to be brownies - basement brownies, in the air vent in her bedroom.
Haunted by visions of her mother, Emma travels through the brownie burrow to the valley of Hades to visit with the goddess Ceres, following a series of clues that lead her across the sea of memory to the centre of the world.
There, on an inhospitable rock floating in a sea of steaming lava, Emma must find a way to release her mother from the sea of memory and restore magic to both the brownie burrow and the human world above.

CATCHALL
I was actually very pleasantly surprised by how much I loved this. I expect a lot out of my fantasies, but this one was tons of fun and a very quick and pleasant read. I had a awesome time reading this and swallowed it in three sittings. And the only reason I stopped at all is because i was in school. But if I could have, I would have read through this all at once. It captured my attention from the first pages and didn't let go.
THE HEROINE
EMMA
Emma is our very spunky heroine. She's used to moving around a lot, being at the bottom of the food chain at school, being nothing special. But in her latest home, she's starting to realize that se's more than that. She's very determined to do what's right, and while she starts off as much of a realist, she slowly comes to step up to the new reality she's found herself in and I really admire that. She's very caring of others, and many of her acts are selfless.
There are other important characters, but as I was writing this review I discovered it's really difficult to speak frankly about them without being spoilery, so.
THE PLOT
When she moves into her new home, Emma immediately notices something seems off about it. Almost like it's–alive. This freaks her out for obvious reasons, but she thinks she must be imagining things. Then she starts to see little people, but convinces herself that she is dreaming. However, her denial can only take her so far.
I loved the way the entire process worked. It was realistic, and Emma's reactions seemed fitting, although she did adjust rather quickly. However, being thrust into the new world as she was, that only makes sense.
The plot moves fairly quickly too, so there's a lot going on. It can get confusing if you don't follow things carefully, but it was a lot of fun.
Something I wasn't expecting: a lot of mythology, particularly of the Greco-Roman variety. It was woven into the story as well, and the way it was done was really clever and original. The mythology and the fantasy were both equally elements of the novel, and there were some concepts that I can't remember seeing before that I loved.
THE ROMANCE
There's actually no romance in this book, but I'm hoping there is in the next!
THE WRITING
Tanya's writing is highly enjoyable. It's third person, but even so I managed to get a strong grip on Emma's character and thoughts. I loved the descriptions of the fantasy world too, which felt like just enough without being infodumps. There was a certain smoothness to the writing, and it had a type of spontaneous feel to it that was unique.
THE ENDING
Actually, the ending really threw me off a lot and I didn't like it. This random thing happened that made absolutely no sense to me and kind of just ruined the whole end for me. It really wasn't explained to my satisfaction and just felt random and left me wondering where the hell the missing pages were. But seriously, yeah, not a fan. The ending was easily the worst part of this book, but then when it gets to the very final pages it kind of makes up for it.
WRAPUP
I really did love Root Bound, and I'm actually really, really looking forward to see what the next book brings to the table. I'm interested to see what will happen next, especially with a certain character! I'm going to have to keep an eye out. I highly recommend this book and suggest that y'all go and read it. It should really be more feel known.

****FINAL RATING: 3.65 RED ROSES****




Tanya Karen Gough was born in Montreal, Quebec and raised in New England, where she developed a healthy appetite for ghosts and things that go bump in the night. An avid reader from a young age, she quickly worked her way through Alice in Wonderland, the Magical Monarch of Mo, Andrew Lang's Fairy Books, all of the Tintin comic books, Nancy Drew, and most of the other books in the children's library.
Finally, at the tender age of 10, she produced this poetic masterpiece:
"Whene'er you get a wandering leg
And feel that you must roam
Remember this and don't forget
The best place is at home"
To date, she has moved more than 25 times. Along the way, she earned two degrees in English Literature, taught overseas, became the owner operator of the Poor Yorick Shakespeare Catalogue, and contributed to a number of Shakespeare-related publications. Root Bound is the first of four books in the Emma and the Elementals series.


And now, time for the giveaways! There are two of them today for this stop.
GIVEAWAY #1
One ebook copy of Root Bound!
a Rafflecopter giveaway
GIVEAWAY #2
One signed paperback of Root Bound!

a Rafflecopter giveaway

That's pretty much everything, my gorgeous, gorgeous darlings. Oh, but here's the full tour schedule. I hope you enjoyed this post! I hope you all are starting lovely weekends. *blows glitter kisses*

Lovelovelove,

Welcome!
Welcome to my young adult reading blog! Sparkles and Lightning has young adult book reviews with the occasional children's or adult's book review sprinkled in. It will also be totally and completely fun :) Have a look around, have some laughs, and most of all, have a perfectly sparkly, electric time!

About Me
I'm a university student and ballroom dancer who spends too much time curled up with a good book. Red roses are my favorite and I love a good love story.
View my complete profile

Blog Tours
Want me to be a part of your blog tour? Contact me and let me know.

Blog Love!

Blog Archive

Browse Reviews by Rating

Disclaimer
In accordance with the FTC Guidelines for blogging and endorsements, I am required to state that no payments are received in return for reviews, promotions and endorsements. All books are received at no cost from publishers or purchased by myself. I receive no monetary compensations for anything that appears on Sparkles and Lightning.