2015 Reading Challenge


Quotes I Love

© 2011-2013 by Annabelle Lovell. All rights reserved. Powered by
Blogger
.

Friday, January 18, 2013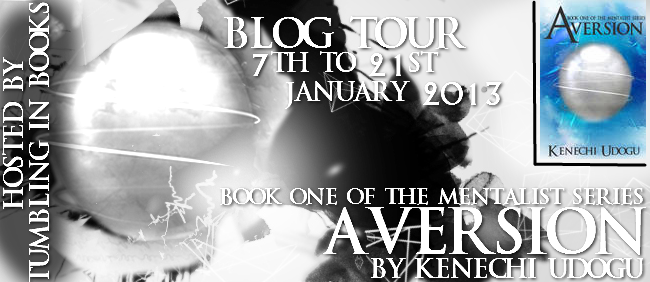 Hi there! I'm very excited about the blog tour I'm a part of today! I love Kenechi, and I'm thrilled to be part of her blog tour for Aversion. It's the first book I was ever a beta reader for, and it was seriously one of the most fantastic experiences of my life.

So, moving right along. Let's start with my review.
❦❦❦❦❦❦❦❦❦❦❦❦❦❦❦❦❦❦❦❦❦❦❦❦❦❦❦❦❦❦❦❦❦❦❦❦❦❦❦❦❦❦❦❦❦❦❦❦❦❦❦❦❦❦❦
Aversion (The Mentalist Series, #1)
Kenechi Udogu
Publisher: Kenechi Udogu
Release Date: December 1, 2012
Source: Author
For Gemma Green's first time, things should have been straightforward. Find your subject, hold their gaze and push a thought into their head to save them from future disaster – Aversion complete. A pretty simple process given that the subject was to have no recollection of the experience. But Russ Tanner doesn't seem to want to forget. In fact the more she tries to avoid him, the more he pushes to get to know her. Gemma knows she has a problem but is she facing the side effects of a failed Aversion or has the school's tennis champ really fallen for her?
❦❦❦❦❦❦❦❦❦❦❦❦❦❦❦❦❦❦❦❦❦❦❦❦❦❦❦❦❦❦❦❦❦❦❦❦❦❦❦❦❦❦❦❦❦❦❦❦❦❦❦❦❦❦❦
CATCHALL
I absolutely adored this book. It was a very interesting and fun read. There's a touch of the mysterious and definitely some forbidden love. The characters were memorable, and there were some darker overtones that made everything a more serious. It's also set in a beautiful world with unknown rules. Overall, it's a lightish read that I fell right into and loved.
THE HERO
GEMMA
Gemma is a smart and entertaining heroine. She doesn't walk unknowingly into danger by making stupid decisions. However, she does put other people's safety before her own, and how can I not admire that? She takes ricks, but she isn't an idiot about it. She also gets very nervous and scared when she's afraid that she's messed up beyond fixing. And then she doesn't give up, just tries to do her best to fix it.
THE LOVE INTEREST
RUSS
Russ is sweet but he also wants to know exactly what's going on. He's too smart to buy Gemma's story and he knows there's something bigger at work. He confronts her about it, but in the process he gets mixed up in everything. He immediately gets protective of her, not wanting to force her to face whatever she's up against on her own. At the same time, he isn't pushy. He lets her make her own decisions.
THE PLOT
Aversion was definitely a unique read. A lot of books about the paranormal seem to be similar sometimes, but this one was refreshing.
In Gemma's world, an averter is someone who "influences" a chosen target to set them on a certain path in life. They can force people not to do something, and the opposite is also true. The target doesn't remember afterward, but things go awry for Gemma and Russ.
When she tries to make him change his path, he does. But afterward, he can't seem to leave her alone. He remembers something, and he won't stop until he finds out what happened. Gemma tries her best to avoid him, but she can't deny that she is drawn to him as well.
Together, they try to figure out what this connection is. Gemma tries to figure out what went wrong and how to fix it without having to tell her father. Sometimes I wished she would just go to him and tell him, but I also understand why she didn't.
Aversion was a lot of fun, but it wasn't all light. I loved that there's a lot of mystery entwined throughout the novel, and that we're never sure of the twists the book is going to take next.
THE ROMANCE
The romance here was light and sweet. At first, it isn't clear if there's some sort of supernatural connection at work or not, and Gemma is convinced that it's all superficial. But Russ really seems to like her, and neither of them can seem to stay away from each other. And when they let things happen, it's in a fun and yet serious way. When they decide their own feelings, they take control. But not everything, as it turns out, is up to them.
THE WRITING
I've read one other book by Kenechi, and I can happily say that her writing has been much improved. Her first person voice is detailed and innocent, but not annoying. We get most of the picture without too much being revealed to us, and the wording is awesome. I love that we get a good perspective, and it keeps us from ever getting to know too much. We can still make conclusions and notice some things Gemma doesn't, but it makes her very relatable.
THE ENDING
I liked that there's obviously more to come, and that the story isn't completely over. There's a dramatic climax, but there's also not a cliffhanger ending. Despite this, as soon as I finished I was already looking forward to what happens next. Gemma's story is enormously entertaining and it ended on the perfect note, with a bit of heartbreak but a sliver of hope.
WRAPUP
Aversion was a sweet and fun read but although it was fairly light it wasn't all games. It was lovely and original as well. I'll definitely be continuing this series, and I have a lot of respect for this author. I'd definitely recommend it to fans of paranormal romance and those of you who are looking for something unique in the sea of similar YA.
FINE.
****FINAL RATING: 4.15 RED ROSES****




❦❦❦❦❦❦❦❦❦❦❦❦❦❦❦❦❦❦❦❦❦❦❦❦❦❦❦❦❦❦❦❦❦❦❦❦❦❦❦❦❦❦❦❦❦❦❦❦❦❦❦❦❦❦❦
About the Author
Kenechi lives in London and enjoys writing fantasy/paranormal fiction and short stories (some of which she posts on her blog). She also hates the cold and hopes to one day figure out how to hibernate in winter.
❦❦❦❦❦❦❦❦❦❦❦❦❦❦❦❦❦❦❦❦❦❦❦❦❦❦❦❦❦❦❦❦❦❦❦❦❦❦❦❦❦❦❦❦❦❦❦❦❦❦❦❦❦❦❦
So, that was my review and the about the author. I can only hope that you liked it. We're cruising right along and moving on to the guest post now. It's pretty self-explanatory, so I'll let it explain itself!
Superheroes – it's pretty obvious that the world has always been slightly obsessed with the idea of them, drawing elements of them into countless fictional tales and even trying to advance technology to create the ultimate "human". Why? Because although most superheroes are portrayed as people who possess supernatural powers, quite a good number are simply regular folks trying to do good with the limited or not so limited resources they have (did I hear someone whisper Batman?). The one thing that links both types of heroes is the thirst for justice (or sense of guilt) which propels them to tackle the plight of others and stand out from the crowd. Let's face it, having a superpower doesn't make a hero. What you achieve with your superpower is what counts.


In actuality, what seems to intrigue us more about these characters, even more than their abilities, is their flaws. Everyone can relate to a hero who doesn't always get things right or one who has a few demons to battle. Why? Because having these flaws makes us feel like our daily toils are comparable with the nightmare situations these characters have to go through. If they can fall in love with a soulless villain and muddle up a mission because they are heartbroken, so can we. If their obsession with some seemingly trivial thing/person blinds them to the truth before them, leading them to a jaw dropping near death experience, even better!


In Aversion, Gemma Green has the ability to sense her assignee's future acts and prevent them from carrying these out. As simple as this sounds, this ability comes with a lot of responsibility – who envies anyone burdened with the ability to change other people's destinies? On top of this she is faced with the thought that somehow she has failed at her first attempt at carrying out an Aversion and tries in vain to rectify the situation. Gemma's flaws are relatable. She's maintained a fairly sheltered life and is very trusting of her father, even when things don't seem to be working out as planned. The story follows her discovery of her emerging powers, these supposed (charming) flaws and how she learns to deal with them as she carries on playing the hero role.

So if you're looking for a new heroine who's pretty much a regular teenage girl (except for the fact that she can get into your head and do strange things in there), then I think this one is for you. But do take care not to judge her too harshly; after all, she's just as flawed as you and I and we love our heroes exactly that way.
I think that about sums everything up. Heroes and heroines, true ones, are flawed. Just as the heroine is this novel is flawed. We sometimes fool ourselves into believing we want to read about perfect people, but in the end we want them flawed, like us.
❦❦❦❦❦❦❦❦❦❦❦❦❦❦❦❦❦❦❦❦❦❦❦❦❦❦❦❦❦❦❦❦❦❦❦❦❦❦❦❦❦❦❦❦❦❦❦❦❦❦❦❦❦❦❦
And you know what? Your patience has paid off! It's now giveaway time. There are actually two different giveaways going on here, so please read my instructions.
Giveaway #1 is simply the rafflecopter. It's international, and one winner will receive and ebook of either AVERSION or THE OTHER SLIPPER. Winner's choice!
Giveaway #2 involves commenting on this blog post, but it is unfortunately only open to UK residents. Any UK resident who comments on this post (with their email included) is eligible to win a paperback copy of THE OTHER SLIPPER.
I think that's as clear as I can make it, and you guys know you can always contact me if you need to.
Good luck, everyone, and I hope you enjoyed this post! Much love and best wishes to you on this lovely day. xxx

Welcome!
Welcome to my young adult reading blog! Sparkles and Lightning has young adult book reviews with the occasional children's or adult's book review sprinkled in. It will also be totally and completely fun :) Have a look around, have some laughs, and most of all, have a perfectly sparkly, electric time!

About Me
I'm a university student and ballroom dancer who spends too much time curled up with a good book. Red roses are my favorite and I love a good love story.
View my complete profile

Blog Tours
Want me to be a part of your blog tour? Contact me and let me know.

Blog Love!

Blog Archive

Browse Reviews by Rating

Disclaimer
In accordance with the FTC Guidelines for blogging and endorsements, I am required to state that no payments are received in return for reviews, promotions and endorsements. All books are received at no cost from publishers or purchased by myself. I receive no monetary compensations for anything that appears on Sparkles and Lightning.