2015 Reading Challenge


Quotes I Love

© 2011-2013 by Annabelle Lovell. All rights reserved. Powered by
Blogger
.

Thursday, January 5, 2012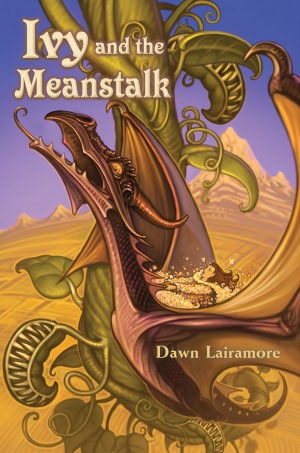 *****FINAL RATING: 4.70 STARS*****
Another unusual occurrence in that I normally do not review children's books. But this book should have one, so here it is!
CATCHALL
If I liked
Ivy's Ever After
well enough, I fell head over heels in love with Ivy and the Meanstalk. It was fun, and so, so cute. I read the whole of it in one sitting because I couldn't her to put it down for even a moment. It should definitely be more popular than it is.
THE HEROINE
I really like Ivy. She's funny and adorable. She's strong and has a bold determination that's admirable. She doesn't back down from a challenge and somehow manages to get past even the slimmest odds. Ivy does what she needs to get done with no fuss. She's one of the best princess characters I've ever read about.
THE SECONDARY CHARACTERS
OWEN
He was cute and sweet, and not an annoying pansy. I genuinely enjoyed reading about him and thought he was a fun addition to this book. In Ever After he's a fairly minor character and very shy, but in Meanstalk he really comes out of his shell. He plays a significant role in the story and is entertaining without subtracting too much attention from our heroine, and yet, still remains probably my favorite character excepting Ivy.
ELDRIDGE
I adore Eldridge. He's hilarious, and educational besides. Ever After impressed me with a fe facts I didn't know, and Meanstalk does this as well. Eldridge doesn't only supply information, though--he's a fun character with a great sense of humor. He's fantastic and I love the take Lairamore has on dragons.
ONE-OH-THREE
Explaining this unusual name would probably require minor spoilers and also take a long time. So, I will skip the explaining part. One-oh-three is a fun, cute character. He's a typical shy boy, sheltered from the world but longing to see it. He takes an interest in Ivy as the foreign princess, and they become fast friends and complete a quest or two together. They each help each other and take risks in a true show of friendship.
DRUSILLA
I still don't really like her. She's kind of annoying. She struck me as really selfish and completely ignorant of the world around her. I feel like she's self-absorbed and while Ivy loves her, I do not. I don't exactly dislike her, I suppose, but I don't exactly like her, either. I'm on an okay note with her, because I do understand part of why she acted the way she did.
BOGGS
He seemed sweet in this book. He constantly cared for Drusilla, even when she was at her most annoying, which is something that is impossible not to admire. He was caring and loyal.
TOADSTOOL
Toadstool is such a whiny little goat. (She's actually a goat, I'm not just calling her one.) Why Drusilla would care for her so much is beyond me, but maybe it's true that people who are alike get along well together. (Okay, that was kind of mean. I admit it. But they're fictional characters.) She was less annoying than in Ever After, but that's probably because she appears less.
THE PLOT
WIN. This plot was fun and entertaining. I loved the whole concept and the cleverness of everything. Each plot point was significant and there as never a dull moment. Every moment, there was some sort of suspense or action, making it un-put-down-able. The entire idea of the story was written out beautifully. It was obviously well-thouht-out and marvelously executed.
THE ROMANCE
Ever After had tiny little hints of romance, but Meanstalk has a bit more. Owen insists on accompanying Ivy on her journey, which is very sweet and completely adorable. There's definitely chemistry, but it's not too heavy for a children's book and kept very clean. The interaction between Ivy and Owen is sweet and believable. The romance between them doesn't grow all at once but is allowed time to develop and breathe.
THE WRITING
Lairamore has such a lyrical voice. Her writing flows from page to page effortlessly. Her descriptions are lively and vivid, and I can often picture her imagery clearly in my mind. Her dialogue has improved from Ever After, and although it was never awful, it is much better now. Also, each scene in this book connected somehow to the rest of the story and the main plot, while in Ever After I felt the scenes were too scattered and that some were pointless. Her writing her improved and it fun and wonderful to read.
THE ENDING
The ending was very, very cute. I was practically squealing because it was so adorable. I felt that everything had been resolved prettily and the romance involved was extremely pleasing to me. I felt that the ending was practically perfect in every way.
WRAPUP
While I had a few minor issues with this book, it did not retract from my overall enjoyment. I have officially become a Dawn Lairamore fan and am keeping my fingers crossed for another Ivy book. I really, really like these characters and the whole world of it, really.
FINE.
Welcome!
Welcome to my young adult reading blog! Sparkles and Lightning has young adult book reviews with the occasional children's or adult's book review sprinkled in. It will also be totally and completely fun :) Have a look around, have some laughs, and most of all, have a perfectly sparkly, electric time!

About Me
I'm a university student and ballroom dancer who spends too much time curled up with a good book. Red roses are my favorite and I love a good love story.
View my complete profile

Blog Tours
Want me to be a part of your blog tour? Contact me and let me know.

Blog Love!

Blog Archive

Browse Reviews by Rating

Disclaimer
In accordance with the FTC Guidelines for blogging and endorsements, I am required to state that no payments are received in return for reviews, promotions and endorsements. All books are received at no cost from publishers or purchased by myself. I receive no monetary compensations for anything that appears on Sparkles and Lightning.