2015 Reading Challenge


Quotes I Love

© 2011-2013 by Annabelle Lovell. All rights reserved. Powered by
Blogger
.

Tuesday, December 4, 2012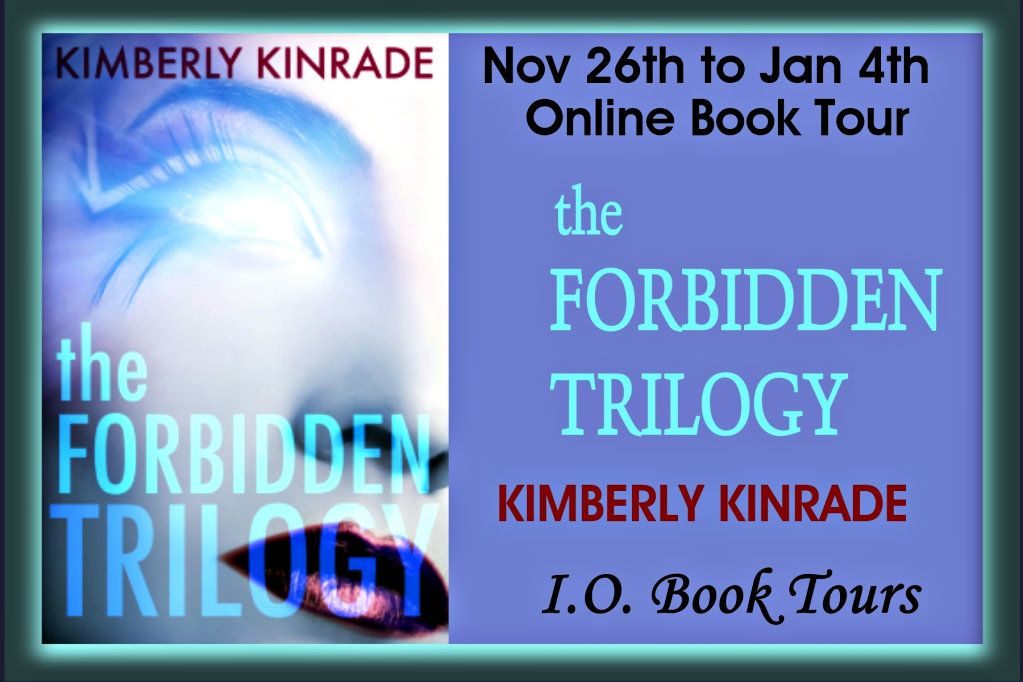 Hi, darlings! Today it's my stop for the blog tour of THE FORBIDDEN TRILOGY, and I'm really excited. I have some awesome graphics to show off, for starters. Seriously. Here's one of them.
Sam is our lovely main character, our main heroine. She's a little bit special. She's actually a mind reader, but there's something of a dark side to her power, too. It's pretty fantastic. And original.
❦❦❦❦❦❦❦❦❦❦❦❦❦❦❦❦❦❦❦❦❦❦❦❦❦❦❦❦❦❦❦❦❦❦❦❦❦❦❦❦❦❦❦❦❦❦❦❦❦❦❦❦❦❦❦
The Forbidden Trilogy Omnibus Edition (The Forbidden Trilogy, #1-3)
Kimberly Kinrade
Publisher: Evolved Publishing
Release Date: November 26, 2012
Source: Publisher
"A thrilling, dark and deeply romantic read." ~Refracted Light Young Adult Book Reviews




"The plot is very ALIAS and DARK ANGEL-like with X-MEN as its backdrop (awesome combo!)." ~Sour Skittles Book Blog




Paranormal teens with unimaginable powers. A secret organization with deadly intentions. When Sam, a girl who reads minds, meets Drake, a boy who controls minds, they discover their lives aren't what they thought.




Together, they must escape their fate and free their friends, before they lose everyone they love.




This special edition omnibus includes the entire Forbidden Trilogy--Forbidden Mind, Forbidden Fire and Forbidden Life, as well as extensive bonus content. Meet the author in an in-depth Q&A, get to know your favorite characters better, enjoy never-before-revealed interlude scenes and so much more.
❦❦❦❦❦❦❦❦❦❦❦❦❦❦❦❦❦❦❦❦❦❦❦❦❦❦❦❦❦❦❦❦❦❦❦❦❦❦❦❦❦❦❦❦❦❦❦❦❦❦❦❦❦❦❦
CATCHALL
I definitely, definitely liked this series. It was mostly entertaining, and several aspects of it seemed original. The problem is, a lot of the time it felt like bad Twilight fanfiction and I just wanted it to be over already. I can't go into the why without getting spoiler, but believe me, the Twilight aspects are there. And that majorly ticked me off. So, while I liked it, I definitely have conflicting feelings. Some parts were good, and some were bad.
THE FABULOUS (AND NOT-SO-FABULOUS) CHARACTERS
Normally I would divide them up more than this, but the role of the characters gets kind of confusing when I tried to do that so here they are all lumped together.
SAM
Sam is our narrator, and I actually kind of liked her. She's really strong and brave, but she can also be foolish, and she'll do things impulsively that coincidentally work out because her life is just fabulous in that way. She doesn't really let anything weaken her, though, and when she's faced with the awful truths she kind of use takes a deep breath and deals with it. She moves on, and she clearly cares about the other children very much. At the same time, she's always getting herself stuck in stupid situations. Hey, Bella…
DRAKE
Drake I actually did not like at all. Sorry, but I didn't. He's a freaking bastard. He's totally rude to everyone except Sam, and then he goes and does stupid things, and he is way too arrogant. He doesn't get humbled until the very end, and by then I already hated him so much that there was no turning back. He just has a major attitude problem, and he's overprotective, and I just…no. Guess which Twilight character he reminded me of?
LUCY
Lucy I actually liked. She, more than Sam, is the strong one. While she doesn't narrate too much in the first novel, in the second and third books she makes much larger appearances, and I was grateful for that. Lucy has conflicting values. She wants to do whatever it takes to survive, but although she can hurt others it's not easy for her, and she doesn't like it. She's mature, and she doesn't get herself into more trouble than is necessary.
LUKE
Luke doesn't make too many appearances, but he's still an important character and I really liked him. So, here he is, being mentioned. Luke goes through some serious crises, and he doesn't handle all of them the right way. But he cares about his sister, and he can see things she can't. Oh, and he has a wonderful sense of humor. He also is protective, but not overly so, and he learns to let her make her own decisions.
HUNTER
Hunter is…um, wow. Like, super hot. Seriously. He practically oozes sexy. He's definitely dangerous. That's clear from the beginning. His past is a deep mystery. Yet there's something magnetic about him. He's intense and fantastic, and he's a very deep character, too. He's the opposite of Lucy in some ways, which is interesting. He doesn't really believe in halfway. If he does something, it gets done.
They're actually a lot more characters, but that's it for the main ones!
THE PLOT
Okay, so, at first, the plot moves really slowly. Like, molasses slow. Not kidding. The entire first book doesn't see much action, honestly. It's just kind of a la-dee-dah sort of thing.
Though once the action starts, um, it starts. Drama on every page, both inconsequential and hugely important. Danger around every corner. Enemies waiting to strike and then striking. It's enormously exciting stuff, and honestly, it was never enough. I always wanted more action.
But there were down moments too, of course. Breaks for the characters, when they could fall in love or just be friends. Hang out, pretend all's well.
It's suspenseful, too. There's always some sort of mystery. Who's really on what side? Who's lying? Who's telling the truth? You never know for sure, not really. It's impossible to know until the final event happens.
It was actually fairly original, aside from the random Twilight aspects. Mostly. The whole paranormal powers things isn't new, but the way Kimberly used it and wrote about it is, and I like that. There are new rules this time, and new secrets, too.
THE ROMANCE
Well, I hate Sam and Drake together. Sorry, but I do. Probably because Drake is a jerk. There's another perfectly nice guy, Darren, who shows interest in Sam, but noooo. (cough*Twilight*cough) So, not a fan. It just developed really weirdly from the beginning too and just didn't seem romantic at all. However, I did enjoy the romance between Lucy and Hunter. That was a pleasant surprise and the way it developed was so smooth and electric. They hit it off from the beginning, and as they get to know each other their chemistry only increases.
THE WRITING
The main thing I didn't like: it does that stupid thing where it switches from first person to third person. I absolutely hate that. Just choose one, authors. It was really annoying and really weird and also frustrating. That aside, Kimberly develops unique voices for her characters really, really well. Like, really well. Sam, Drake, and Lucy were each very distinct. There were also a few other POVs, including a few children and a few villains. It was an interesting tactic to use so many different POVs. The problem is that while it does give you information you wouldn't otherwise get some of it felt awfully pointless. Also, Kimberly also does things like refer to certain things like refer to characters as "the bitch." I am not okay with that. Use their names, or don't call them anything, but calling them "the bitch" is just rude and doesn't make your character any better.
THE ENDING
I was really, really disappointed in the ending. Not gonna lie. Without actually saying what happens…Twilight. Teenagers. Way too young. And that just really bothered me and I am not okay with that. There was absolutely no need for the book to end this way and it kind of saddened me because it definitely sealed the deal for how I saw this book.
WRAPUP
Well, I did like this book, despite the Twilight-ness of it. Like, I really did. At the same time, no I couldn't personally recommend it. While that's a shame, I also know that there are some people out there who would fall head over heels for this book. I'm simply not one of them. However, rumor has it Kimberly will be writing a spinoff series featuring Lucy and Luke, and yep, I'm interested. I am so there.
FINE.
***FINAL RATING: 2.70 RED ROSES***



❦❦❦❦❦❦❦❦❦❦❦❦❦❦❦❦❦❦❦❦❦❦❦❦❦❦❦❦❦❦❦❦❦❦❦❦❦❦❦❦❦❦❦❦❦❦❦❦❦❦❦❦❦❦❦
❦❦❦❦❦❦❦❦❦❦❦❦❦❦❦❦❦❦❦❦❦❦❦❦❦❦❦❦❦❦❦❦❦❦❦❦❦❦❦❦❦❦❦❦❦❦❦❦❦❦❦❦❦❦❦
BOOK 1: FORBIDDEN MIND
49% of Americans believe their government officials are honest. I don't know these officials, or their supporters, but I know their secrets, and 49% of Americans are wrong.




My employers pay me well to be right, to know things others can't. But I don't know why they brought that boy in, strapped to a stretcher, barely conscious. He asked me for help when I could give none.




I'm a wealthy spy, a talented artist, a martial arts black belt, and a prisoner. They tell me that on my eighteenth birthday, I will be released, free to go to the college of my dreams. It's my eighteenth birthday, and a man in black is at my door. I know he's not here to free me.




I know, because I can read minds.




My name is Sam, and this is my story.




So begins the tale of Sam and Drake--from the time they link minds, forging a bond that leads to an unconventional romance--to their fight for survival against the corrupt, twisted organization known as 'Rent-A-Kid.'




"...a thrilling, dark and deeply romantic read that had me sitting on the edge of my seat and eagerly awaiting the next installment." ~ Refracted Light Young Adult Book Reviews




"The plot is very ALIAS and DARK ANGEL-like with X-MEN as its backdrop (awesome combo!). Forbidden Mind BLEW my mind!" ~Sour Skittles Book Blog




Winner of 2011 Forward National Literature Award
"She escaped, but she'll never be free."




"Time held no meaning as my mind darted in and out of memories. Past and present collided to create a full-sensory collage out of my life: playing hide-n-seek with my best friends Luke--who always cheated by walking through walls when he was about to be caught--and Lucy; Mr. Caldrin critiquing my sketches and offering ideas to make them more realistic; targets changing faces, blending into the same person, their thoughts rippling through my mind like waves. Through it all, a demon stalked me from the shadows of my memories, never quite showing its face, but crouching, waiting.




And then I dreamed...."




Sam and Drake may have escaped, but they aren't free—not with a powerful Seeker after them. As Sam struggles with the ethics of her new powers and embraces a blossoming physical relationship with Drake, Lucy and Luke face challenges of their own.




With forces coalescing inside and outside the Rent-A-Kid dorms, it's only a matter of time before the fire they started forces each of them to make choices they can't undo. But will it be enough to save them?
The road to redemption begins in darkness.




A sinister force waits for them in darkness, ready to devour their powers and take their lives.




Sam's baby is the key to a lock that must never been opened. To keep her child safe, Sam will do anything.




Drake might have found a way to get his powers back and save his family, but is it too late?




Luke and Lucy uncover secrets in an organization they thought they could trust, and the lives of all Rent-A-Kid children are at stake.




In this last Forbidden Trilogy installment, the secrets to Rent-A-Kid will finally be revealed.
❦❦❦❦❦❦❦❦❦❦❦❦❦❦❦❦❦❦❦❦❦❦❦❦❦❦❦❦❦❦❦❦❦❦❦❦❦❦❦❦❦❦❦❦❦❦❦❦❦❦❦❦❦❦❦
❦❦❦❦❦❦❦❦❦❦❦❦❦❦❦❦❦❦❦❦❦❦❦❦❦❦❦❦❦❦❦❦❦❦❦❦❦❦❦❦❦❦❦❦❦❦❦❦❦❦❦❦❦❦❦
Kimberly Kinrade was born with ink in her veins and magic in her heart. She writes fantasy and paranormal stories for children, YA and adults and still believes in magic worlds. Check out her YA paranormal novels Forbidden Mind and Forbidden Fire and her illustrated children's fantasy chapter books Lexie World, and Bella World, all on Amazon.
She lives with her three little girls who think they're ninja princesses with super powers, her two dogs who think they're humans and her husband, also known as the sexy Russian Prince, who is the love of her life and writing partner.
❦❦❦❦❦❦❦❦❦❦❦❦❦❦❦❦❦❦❦❦❦❦❦❦❦❦❦❦❦❦❦❦❦❦❦❦❦❦❦❦❦❦❦❦❦❦❦❦❦❦❦❦❦❦❦
❦❦❦❦❦❦❦❦❦❦❦❦❦❦❦❦❦❦❦❦❦❦❦❦❦❦❦❦❦❦❦❦❦❦❦❦❦❦❦❦❦❦❦❦❦❦❦❦❦❦❦❦❦❦❦
I hope you've all enjoyed! I ad a lot of fun creating and putting together this post, so I can only hope that you had as much fun reading it.

Welcome!
Welcome to my young adult reading blog! Sparkles and Lightning has young adult book reviews with the occasional children's or adult's book review sprinkled in. It will also be totally and completely fun :) Have a look around, have some laughs, and most of all, have a perfectly sparkly, electric time!

About Me
I'm a university student and ballroom dancer who spends too much time curled up with a good book. Red roses are my favorite and I love a good love story.
View my complete profile

Blog Tours
Want me to be a part of your blog tour? Contact me and let me know.

Blog Love!

Blog Archive

Browse Reviews by Rating

Disclaimer
In accordance with the FTC Guidelines for blogging and endorsements, I am required to state that no payments are received in return for reviews, promotions and endorsements. All books are received at no cost from publishers or purchased by myself. I receive no monetary compensations for anything that appears on Sparkles and Lightning.