2015 Reading Challenge


Quotes I Love

© 2011-2013 by Annabelle Lovell. All rights reserved. Powered by
Blogger
.

Wednesday, December 19, 2012
Hi! And welcome to Annabelle's blog! If you haven't me before. I'm the official Birthday Alien! I hijack blogs!!!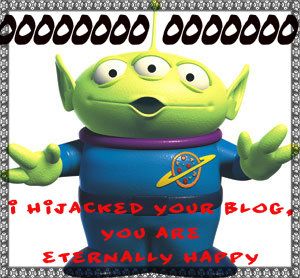 I"m also know as Inky from
Book Haven Extraordinaire
. Some of you may know me..if not...HI!!! I'm here to celebrate one awesome girl and her blog!! It's Annabelle's 1/2 Birthday and she let me come hijack her!!! HAPPY HALF-BIRTHDAY ANNA! Let's get this party started!!
LET'S GET THIS PARTY STARTED!!
*shake those maracas*
*clap your hands!*
*grab your microphones*
*share...your rainbows?*
Okay all you party people! It's time for the THINGS WE LOVE ABOUT ANNA game!
SHE READS.

(Smart, HAWT, cookie!)
I'm seriously, what is there NOT to like in a girl who reads?
SHE'LL *FANGIRL* WITH YOU
Fangirling? Check! If you can fangirl. You can be a blogger. ;)
SHE'S ALWAYS READY TO HELP
Seriously! She makes Gift Guides, answers random questions,reviews books for authors/publishers and buys people books. What's not to like about that?
You gotta laugh. It's a part of life. I have provided some.
SHE UNDERSTANDS HOOK & SHERLOCK LOVE
She does! The two bestest shows ever. Once Upon a Time and Sherlock. These claims are justified by the two following men. *get your swoon ready* Hoook, Sherlock and Fangirling have come!
Oh yes. The Anna flair! Makes her who she is!! Which is being a totally sparkly person!
and lastly but not leastly...
And since this is the REAL reason we are here, lets end with some final party GIFS!
YAYA! Best Half-Birthday EVER right?! Haha. I know. I went a bit GIF crazy...but.....

MAKE SURE YOU ALL WISH ANNA A VERY HAPPY HALF-BIRTHDAY! Haha! Here's another 6 months!
*cheers*
XX,

Welcome!
Welcome to my young adult reading blog! Sparkles and Lightning has young adult book reviews with the occasional children's or adult's book review sprinkled in. It will also be totally and completely fun :) Have a look around, have some laughs, and most of all, have a perfectly sparkly, electric time!

About Me
I'm a university student and ballroom dancer who spends too much time curled up with a good book. Red roses are my favorite and I love a good love story.
View my complete profile

Blog Tours
Want me to be a part of your blog tour? Contact me and let me know.

Blog Love!

Blog Archive

Browse Reviews by Rating

Disclaimer
In accordance with the FTC Guidelines for blogging and endorsements, I am required to state that no payments are received in return for reviews, promotions and endorsements. All books are received at no cost from publishers or purchased by myself. I receive no monetary compensations for anything that appears on Sparkles and Lightning.