2015 Reading Challenge


Quotes I Love

© 2011-2013 by Annabelle Lovell. All rights reserved. Powered by
Blogger
.

Friday, December 28, 2012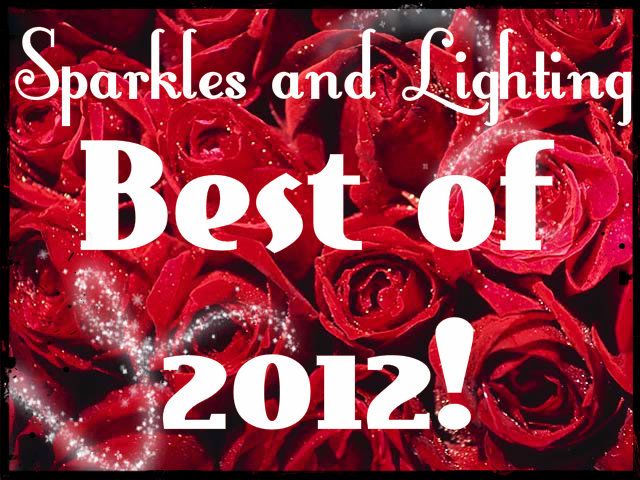 Welcome again to the second day of my Best of 2012 feature! Yesterday I posted my five favorite standalones. Today, I'll be posting my five favorite books from 2012 that are part of a series but not the first book. So, not debuts.
Enshadowed (Nevermore, #2)
Kelly Creagh
Publisher: Atheneum
Release Date: August 28, 2012
Goodreads | Amazon | Barnes & Noble | The Book Depository | My Review
Varen Nethers is trapped in a perilous dream world -- a treacherous and desolate realm where the terrifying stories of Edgar Allan Poe come to life. Isobel Lanley, plagued by strange visions and haunted by the nightmares of Varen's creation, is the only one who can save him.
Isobel knows that her only hope lies within a Baltimore cemetery. There, in the early morning hours of Edgar Allan Poe's birthday, a mysterious stranger known as the "Poe Toaster" will make his annual homage at the legendary poet's grave.
Only the Poe Toaster holds the key to the way between worlds. But even greater dangers lie ahead for Isobel. An ancient evil, draped in veils of white, is watching, challenging her for Varen's affections. When Isobel finally finds Varen, he is no longer the quiet and brooding boy who once captivated her, but a dark force, powerful and malevolent.
Princess of the Silver Woods (Princess, #3)
Jessica Day George
Publisher: Bloomsbury USA Children's Books
Release Date: December 11, 2012
Goodreads | Amazon | Barnes & Noble | The Book Depository | My Review
When Petunia, the youngest of King Gregor's twelve dancing daughters, is invited to visit an elderly friend in the neighboring country of Westfalin, she welcomes the change of scenery. But in order to reach Westfalin, Petunia must pass through a forest where strange two-legged wolves are rumored to exist. Wolves intent on redistributing the wealth of the noble citizens who have entered their territory. But the bandit-wolves prove more rakishly handsome than truly dangerous, and it's not until Petunia reaches her destination that she realizes the kindly grandmother she has been summoned to visit is really an enemy bent on restoring an age-old curse. The stories of Red Riding Hood and Robin Hood get a twist as Petunia and her many sisters take on bandits, grannies, and the new King Under Stone to end their family curse once and for all.
Hallowed (Unearthly, #2)
Cynthia Hand
Publisher: Harper Teen
Release Date: January 17, 2012
Goodreads | Amazon | Barnes & Noble | The Book Depository | My Review
For months Clara Gardner trained to face the fire from her visions, but she wasn't prepared for the choice she had to make that day. And in the aftermath, she discovered that nothing about being part angel is as straightforward as she thought.
Now, torn between her love for Tucker and her complicated feelings about the roles she and Christian seem destined to play in a world that is both dangerous and beautiful, Clara struggles with a shocking revelation: Someone she loves will die in a matter of months. With her future uncertain, the only thing Clara knows for sure is that the fire was just the beginning.
In this compelling sequel to "Unearthly," Cynthia Hand captures the joy of first love, the anguish of loss, and the confusion of becoming who you are.
The Lost Prince (The Iron Fey, #5; Call of the Forgotten, #1)
Julie Kagawa
Publisher: Harlequin Teen
Release Date: October 23, 2012
Goodreads | Amazon | Barnes & Noble | The Book Depository | My Review
Don't look at Them. Never let Them know you can see Them.
That is Ethan Chase's unbreakable rule. Until the fey he avoids at all costs—including his reputation—begin to disappear, and Ethan is attacked. Now he must change the rules to protect his family. To save a girl he never thought he'd dare to fall for.
Ethan thought he had protected himself from his older sister's world—the land of Faery. His previous time in the Iron Realm left him with nothing but fear and disgust for the world Meghan Chase has made her home, a land of myth and talking cats, of magic and seductive enemies. But when destiny comes for Ethan, there is no escape from a danger long, long forgotten.
Insurgent (Divergent, #2)
Veronica Roth
Publisher: Katherine Tegen Books
Release Date: May 1, 2012
Goodreads | Amazon | Barnes & Noble | The Book Depository | My Review
One choice can transform you--or it can destroy you. But every choice has consequences, and as unrest surges in the factions all around her, Tris Prior must continue trying to save those she loves--and herself--while grappling with haunting questions of grief and forgiveness, identity and loyalty, politics and love.
Tris's initiation day should have been marked by celebration and victory with her chosen faction; instead, the day ended with unspeakable horrors. War now looms as conflict between the factions and their ideologies grows. And in times of war, sides must be chosen, secrets will emerge, and choices will become even more irrevocable--and even more powerful. Transformed by her own decisions but also by haunting grief and guilt, radical new discoveries, and shifting relationships, Tris must fully embrace her Divergence, even if she does not know what she may lose by doing so.
"New York Times" bestselling author Veronica Roth's much-anticipated second book of the dystopian "Divergent" series is another intoxicating thrill ride of a story, rich with hallmark twists, heartbreaks, romance, and powerful insights about human nature.
That was a difficult list to put together! So many fabulous sequels came out this year, and many of these series have yet another sequel coming out next year. Something to look forward to for certain!
Lovelovelove,

Welcome!
Welcome to my young adult reading blog! Sparkles and Lightning has young adult book reviews with the occasional children's or adult's book review sprinkled in. It will also be totally and completely fun :) Have a look around, have some laughs, and most of all, have a perfectly sparkly, electric time!

About Me
I'm a university student and ballroom dancer who spends too much time curled up with a good book. Red roses are my favorite and I love a good love story.
View my complete profile

Blog Tours
Want me to be a part of your blog tour? Contact me and let me know.

Blog Love!

Blog Archive

Browse Reviews by Rating

Disclaimer
In accordance with the FTC Guidelines for blogging and endorsements, I am required to state that no payments are received in return for reviews, promotions and endorsements. All books are received at no cost from publishers or purchased by myself. I receive no monetary compensations for anything that appears on Sparkles and Lightning.