2015 Reading Challenge


Quotes I Love

© 2011-2013 by Annabelle Lovell. All rights reserved. Powered by
Blogger
.

Thursday, December 27, 2012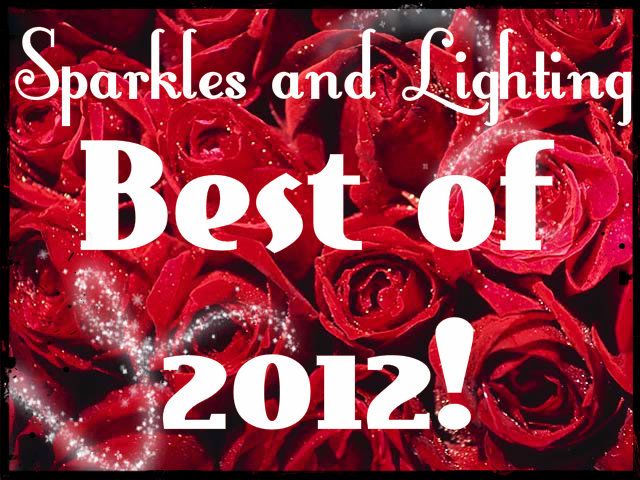 Hi, darlings! Welcome to the Sparkles and Lightning 3-day event in which I show my favorite books from 2012! Today I will be listing my top five favorite standalone books that were released in 2012. Here they are, in no particular order.
The Fault in Our Stars
John Green
Publisher: Dutton Books
Release Date: January 10, 2012
Goodreads | Amazon | Barnes & Noble | The Book Depository | My Review
Diagnosed with Stage IV thyroid cancer at 13, Hazel was prepared to die until, at 14, a medical miracle shrunk the tumours in her lungs... for now.

Two years post-miracle, sixteen-year-old Hazel is post-everything else, too; post-high school, post-friends and post-normalcy. And even though she could live for a long time (whatever that means), Hazel lives tethered to an oxygen tank, the tumours tenuously kept at bay with a constant chemical assault.



Enter Augustus Waters. A match made at cancer kid support group, Augustus is gorgeous, in remission, and shockingly to her, interested in Hazel. Being with Augustus is both an unexpected destination and a long-needed journey, pushing Hazel to re-examine how sickness and health, life and death, will define her and the legacy that everyone leaves behind.
Lucid
Adrienne Stoltz
Ron Bass
Publisher: Razorbill
Release Date: October 2, 2012
Goodreads | Amazon | Barnes & Noble | The Book Depository | My Review
What if you could dream your way into a different life? What if you could choose to live that life forever?
Sloane and Maggie have never met. Sloane is a straight-A student with a big and loving family. Maggie lives a glamorously independent life as an up-and-coming actress in New York. The two girls couldn't be more different--except for one thing. They share a secret that they can't tell a soul. At night, they dream that they're each other.
The deeper they're pulled into the promise of their own lives, the more their worlds begin to blur dangerously together. Before long, Sloane and Maggie can no longer tell which life is real and which is just a dream. They realize that eventually they will have to choose one life to wake up to, or risk spiraling into insanity. But that means giving up one world, one love, and one self, forever.
This is a dazzling debut that will steal readers' hearts.
Every Day
David Levithan
Publisher: Knopf Books for Young Readers
Release Date: August 28, 2012
Goodreads | Amazon | Barnes & Noble | The Book Depository | My Review
In his New York Times bestselling novel, David Levithan introduces readers to what Entertainment Weekly calls a "wise, wildly unique" love story about A, a teen who wakes up every morning in a different body, living a different life.
Every day a different body. Every day a different life. Every day in love with the same girl.
There's never any warning about where it will be or who it will be. A has made peace with that, even established guidelines by which to live: Never get too attached. Avoid being noticed. Do not interfere.
It's all fine until the morning that A wakes up in the body of Justin and meets Justin's girlfriend, Rhiannon. From that moment, the rules by which A has been living no longer apply. Because finally A has found someone he wants to be with—day in, day out, day after day.
With his new novel, David Levithan, bestselling co-author of Will Grayson, Will Grayson, and Nick and Norah's Infinite Playlist, has pushed himself to new creative heights. He has written a captivating story that will fascinate readers as they begin to comprehend the complexities of life and love in A's world, as A and Rhiannon seek to discover if you can truly love someone who is destined to change every day.
A Temptation of Angels
Michelle Zink
Publisher: Dial Books for Young Readers
Release Date: March 20, 2012
Goodreads | Amazon | Barnes & Noble | The Book Depository | My Review
Even angels make mistakes in this page-turning epic romance.
When her parents are murdered before her eyes, sixteen-year-old Helen Cartwright finds herself launched into an underground London where a mysterious organization called the Dictata controls the balance of good and evil. Helen learns that she is one of three remaining angelic descendants charged with protecting the world's past, present, and future. Unbeknownst to her, she has been trained her whole life to accept this responsibility. Now, as she finds herself torn between the angelic brothers protecting her and the devastatingly handsome childhood friend who wants to destroy her, she must prepare to be brave, to be hunted, and above all to be strong, because temptation will be hard to resist, even for an angel.
Michelle Zink masterfully weaves historical fantasy with paranormal romance to create a gripping tale of love and betrayal.
For Darkness Shows the Stars
Diana Peterfreund
Publisher: Balzer + Bray
Release Date: June 12, 2012
Goodreads | Amazon | Barnes & Noble | The Book Depository | My Review
It's been several generations since a genetic experiment gone wrong caused the Reduction, decimating humanity and giving rise to a Luddite nobility who outlawed most technology.
Elliot North has always known her place in this world. Four years ago Elliot refused to run away with her childhood sweetheart, the servant Kai, choosing duty to her family's estate over love. Since then the world has changed: a new class of Post-Reductionists is jumpstarting the wheel of progress, and Elliot's estate is foundering, forcing her to rent land to the mysterious Cloud Fleet, a group of shipbuilders that includes renowned explorer Captain Malakai Wentforth--an almost unrecognizable Kai. And while Elliot wonders if this could be their second chance, Kai seems determined to show Elliot exactly what she gave up when she let him go.
But Elliot soon discovers her old friend carries a secret--one that could change their society . . . or bring it to its knees. And again, she's faced with a choice: cling to what she's been raised to believe, or cast her lot with the only boy she's ever loved, even if she's lost him forever.
Inspired by Jane Austen's persuasion, "For Darkness Shows the Stars" is a breathtaking romance about opening your mind to the future and your heart to the one person you know can break it.
So, there you have it…the best five standalones of 2012 according to yours truly! Hope you enjoyed, and look at for tomorrow's post!

Lovelovelove,

Welcome!
Welcome to my young adult reading blog! Sparkles and Lightning has young adult book reviews with the occasional children's or adult's book review sprinkled in. It will also be totally and completely fun :) Have a look around, have some laughs, and most of all, have a perfectly sparkly, electric time!

About Me
I'm a university student and ballroom dancer who spends too much time curled up with a good book. Red roses are my favorite and I love a good love story.
View my complete profile

Blog Tours
Want me to be a part of your blog tour? Contact me and let me know.

Blog Love!

Blog Archive

Browse Reviews by Rating

Disclaimer
In accordance with the FTC Guidelines for blogging and endorsements, I am required to state that no payments are received in return for reviews, promotions and endorsements. All books are received at no cost from publishers or purchased by myself. I receive no monetary compensations for anything that appears on Sparkles and Lightning.