2015 Reading Challenge


Quotes I Love

© 2011-2013 by Annabelle Lovell. All rights reserved. Powered by
Blogger
.

Friday, September 7, 2012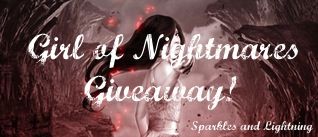 Hi darlings! Yes, it is time for another giveaway. Because I LOVE giveaways.
So, last month I went a stop on the Girls Nightmare Out tour. It was awesome. And even though sadly I couldn't take you all, I did get to bring some awesome stuff back to give away!
Want to see?
Well, first off, I'm giving away three GIRL OF NIGHTMARES hardcovers. No surprise there. Not signed or anything, but still, an awesome book!
Also, I apologize in advance that the quality of these photos suck. I was very lazy.
Then I have these cute and awesome little GIRL OF NIGHTMARES buttons! Are they not adorable? I just love them! I have three of these to give away!
Next, I have some iPhone skins. Aren't they beautiful? I have one on my phone right now and it is gorgeous. I also have three of these to give away!
And then I have one gorgeous bookmark that's signed! You can win this too!
And last but not least, I have one beautiful GIRL OF NIGHTMARES poster, signed by Kendare Blake! My friend who went with me actually won this and not me, but she sweetly offered to donate it to me for a giveaway. Here's a closeup of the signature. It is signed, I swear.
And in case you can't tell, the poster uses the original, bloodred cover. So it basically looks like this.
Only shinier.
So those are all the awesome prizes that I am giving away and giving my best luck to you for you to win!
Want to enter?
Well, all I ask is that you read my Giveaways page first, please. :)
But if you have, then enter away!
a Rafflecopter giveaway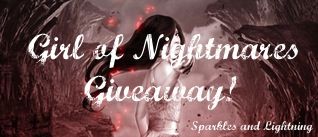 Good luck, my sweet red roses! I love you all immensely! xx
Lovelovelove,

Welcome!
Welcome to my young adult reading blog! Sparkles and Lightning has young adult book reviews with the occasional children's or adult's book review sprinkled in. It will also be totally and completely fun :) Have a look around, have some laughs, and most of all, have a perfectly sparkly, electric time!

About Me
I'm a university student and ballroom dancer who spends too much time curled up with a good book. Red roses are my favorite and I love a good love story.
View my complete profile

Blog Tours
Want me to be a part of your blog tour? Contact me and let me know.

Blog Love!

Blog Archive

Browse Reviews by Rating

Disclaimer
In accordance with the FTC Guidelines for blogging and endorsements, I am required to state that no payments are received in return for reviews, promotions and endorsements. All books are received at no cost from publishers or purchased by myself. I receive no monetary compensations for anything that appears on Sparkles and Lightning.