2015 Reading Challenge


Quotes I Love

© 2011-2013 by Annabelle Lovell. All rights reserved. Powered by
Blogger
.

Monday, July 9, 2012
Hello there, darlings! Welcome to another week of shiny releases and things to buy!
Simply put, there are some absolutely awesome books coming out this week, and I know that y'all are super eager to find out what they are!
Storm of Books may or may not include new or paperback editions of previously released books.
FEATURED RELEASE OF THE WEEK
Long Lankin by Lindsey Barraclough
Beware of Long Lankin, that lives in the moss. . . .When Cora and her younger sister, Mimi, are sent to stay with their elderly aunt in the isolated village of Byers Guerdon, they receive a less than warm welcome. Auntie Ida is eccentric and rigid, and the girls are desperate to go back to London. But what they don't know is that their aunt's life was devastated the last time two young sisters were at Guerdon Hall, and she is determined to protect her nieces from an evil that has lain hidden for years. Along with Roger and Peter, two village boys, Cora must uncover the horrifying truth that has held Bryers Guerdon in its dark grip for centuries -- before it's too late for little Mimi. Riveting and intensely atmospheric, this stunning debut will hold readers in its spell long after the last page is turned.
Deadly Pink by Vivian Vande Velde
Such a Rush by Jennifer Echols
So Close to You by Rachel Carter
Insignia by S. J. Kincaid
Seraphina by Rachel Hartman
Never Enough by Denise Jaden
Poison Tree by Amelia Atwater-Rhodes
Fury's Fire by Lisa Papademetriou
Diva by Jillian Larkin
The Forsaken by Lisa M. Stasse
Don't You Wish by Roxanne St. Claire
Lies Knives and Girls in Red Dresses by Ron Koertge and illustrated by Andrea Dezso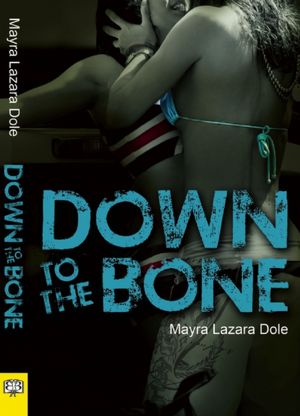 Down to the Bone by Mayra Lazara Dole
Lost Girls by Ann Kelley
Temptation by R. L. Stine
Perfect Escape by Jennifer Brown
The Thing About the Truth by Lauren Barnholdt
So, that's this week's awesome book haul! There's a ton of choices, so watch your wallets this week!
Lovelovelove,

Welcome!
Welcome to my young adult reading blog! Sparkles and Lightning has young adult book reviews with the occasional children's or adult's book review sprinkled in. It will also be totally and completely fun :) Have a look around, have some laughs, and most of all, have a perfectly sparkly, electric time!

About Me
I'm a university student and ballroom dancer who spends too much time curled up with a good book. Red roses are my favorite and I love a good love story.
View my complete profile

Blog Tours
Want me to be a part of your blog tour? Contact me and let me know.

Blog Love!

Blog Archive

Browse Reviews by Rating

Disclaimer
In accordance with the FTC Guidelines for blogging and endorsements, I am required to state that no payments are received in return for reviews, promotions and endorsements. All books are received at no cost from publishers or purchased by myself. I receive no monetary compensations for anything that appears on Sparkles and Lightning.