2015 Reading Challenge


Quotes I Love

© 2011-2013 by Annabelle Lovell. All rights reserved. Powered by
Blogger
.


Thursday, June 18, 2015
Hi there, and welcome to my stop for THE DEVIL'S ONLY FRIEND blog tour! I am honored and blessed to be hosting a stop for a blog tour of this incredibly gifted author. There's a guest post as well as a giveaway, and I hope you enjoy both parts of the post very much!
The Devil's Only Friend (John Cleaver, #4)
Dan Wells
Publisher: Tor Books
Release Date: June 16, 2015
John Wayne Cleaver hunts demons: they've killed his neighbors, his family, and the girl he loves, but in the end he's always won. Now he works for a secret government kill team, using his gift to hunt and kill as many monsters as he can...
...but the monsters have noticed, and the quiet game of cat and mouse is about to erupt into a full scale supernatural war.
John doesn't want the life he's stuck with. He doesn't want the FBI bossing him around, he doesn't want his only friend imprisoned in a mental ward, and he doesn't want to face the terrifying cannibal who calls himself The Hunter. John doesn't want to kill people. But as the song says, you can't always get what you want. John has learned that the hard way; his clothes have the stains to prove it.
When John again faces evil, he'll know what he has to do.
The Devil's Only Friend is the first book in a brand-new John Wayne Cleaver trilogy by New York Times bestselling author Dan Wells.
About the Author

Dan Wells is a thriller and science fiction writer. Born in Utah, he spent his early years reading and writing. He is he author of the Partials series (Partials, Isolation, Fragments, and Ruins), the John Cleaver series (I Am Not a Serial Killer, Mr. Monster, and I Don't Want To Kill You), and a few others (The Hollow City, A Night of Blacker Darkness, etc). He was a Campbell nomine for best new writer, and has won a Hugo award for his work on the podcast Writing Excuses; the podcast is also a multiple winner of the Parsec Award.

The origin of THE DEVIL'S ONLY FRIEND
I wrote the first John Cleaver trilogy years ago, and considered it finished; I always knew there was room for more books and stories in that world, and about that character, but I was satisfied with John's character arc and the trilogy's conclusion. More to the point, I didn't where I could take that character that would be both familiar and new--the first trilogy is kind of sort of about him learning how to feel, and how to connect with other people, and I didn't want to tell more stories about him unless I could find another arc that was just as compelling.
And then I found a perfect idea, in the weirdest place.
I love poetry. I love to read it, I love to write it, and I love to memorize and recite it. Each of the John Cleaver books includes a poem excerpt as an epigram (T.S. Eliot, Edgar Allan Poe, and ee cummings, in order), and each of them also includes character quoting poems in the text (well, sort of: the first one uses William Blake and the third uses ee cummings again, and the second USED TO use William Butler Yeats, but I had to cut that section because it didn't fit. The book is better without it, but I still miss it). For my standalone thriller The Hollow City, I used an epigram from my favorite poet of all time, Emily Bronte, and honestly I have to fight myself pretty hard not to just throw a Bronte quote in front of every book I write.
So: two years ago I was reading through some old Irish poetry, specifically the works of Thomas More, when I ran across a poem called "Alone in Crowds to Wander On." The title struck me immediately, precisely because it seemed like such a good fit for John Cleaver: he's so inward, and so non-empathetic, that he feels alone even when he's surrounded by people. Then I read the poem and found that it was about death, which is an even better fit for John--not just death, but about our reaction to death, and the emotional devastation that comes from losing someone you care about. I'm keeping this as spoiler-free as I can, for those who haven't read the books, but the trilogy ends with John losing just about everything he ever cared about. This line of More's poem was such a perfect fit for John Cleaver it felt like it was written for him:
This, this, the doom must be,
For all who've loved, and lived to see
The few bright things they thought would stay
Forever near them, die away.
Sometimes inspiration is hard, and sometimes its subtle, but this hit me like a thunderbolt. I knew INSTANTLY that I had the seed for an entire new trilogy of John Cleaver books. The first series was about how he learned to feel; the second series would be about how he learned that feeling sucks, and life has pain, and sometimes all a heart does for you is break. I started a new book about the aftermath of the first, showing John that gaining emotions is one thing, but living with them is a whole new set of challenges.
Obviously there are plenty of new monsters and mysteries and exciting twists and horrific scares; John has joined an FBI team tasked with hunting the demons, and with John's help they're good enough at their job to start attracting attention. Demons don't like being hunted. But the core of the John Cleaver books are the emotions that drive them, and that poem gave me the emotional arc I needed to drive a whole new series. The new trilogy will explore where the monsters come from, and how they work, and how John learns how to deal with all these new dangers and influences in his life. It gives you all the grisly mystery and psychological horror you loved in the first series. The first book (or, I guess, technically the fourth book) is out this week, so I hope you pick it up and love it.
And don't be surprised if book five or six shows up with an epigram from Emily Bronte.
I have been generously allowed to give away one copy of THE DEVIL'S ONLY FRIEND to you lovely people, my beloved followers who live in the US and Canada. Please, enter and good luck! Just remember to read my giveaway rules, and no cheating.
Thank you for stopping by and reading my blog post! I hope you enjoyed it as much as I loved putting it together, and I hope I'll see you back here soon!
Lovelovelove,
Saturday, May 23, 2015
First off, this post is a short one. I make no qualms about that. It's also a non-traditional post, and one I hope I never have the need to type again.
I'm not disappearing again! The reason there weren't any posts these past two days was I didn't schedule them ahead of time (they were saved as drafts only) and, if you follow me on twitter you might have heard this next part, that my wifi was down. Yes, it was horrible, and without it I was unable to schedule any posts for those two days. It'll be a bit hectic while I get everything back in order, so there may not be any posts for a few days, or there may be. It really depends.
Thank you, as always, for being so understanding.
Lovelovelove,
Thursday, May 21, 2015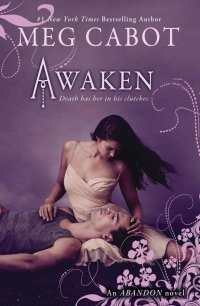 Awaken (Abandon, #3)
Meg Cabot
Publisher: Point
Release Date: July 2, 2013
Source: Publisher
Goodreads | Amazon | Barnes & Noble | The Book Depository
From #1 New York Times bestselling author Meg Cabot, the dark reimagining of the Persephone myth comes to a thrilling conclusion.
Death has her in his clutches. She doesn't want him to let her go. Seventeen-year-old Pierce Oliviera knew by accepting the love of John Hayden, she'd be forced to live forever in the one place she's always dreaded most: the Underworld. The sacrifice seemed worth it, though, because it meant she could be with the boy she loves.
But now her happiness—and safety—are threatened, all because of the Furies have discovered that John has broken one of their strictest rules: Never revive a human soul.
If the balance between life and death isn't fixed, both the Underworld and Pierce's home back on earth will be wiped away. But there's only one way to restore order. Someone has to die.
CATCHALL
Awaken is without a doubt my favorite Meg Cabot book thus far, and a true jewel. I absolutely devoured it. From start to finish, it was a ride I was happy to be on. I simply couldn't get enough of it. When I read the last page, I flipped back to the first. It was that amazing.
THE HEROINE
PIERCE
Pierce is my girl. I adore her. She's strong and smart, and though she doesn't always make the smartest decisions she does what she does for a reason and isn't stupid about it. She's a real person, and she makes real mistakes and has to fix them. But she also has a good heart, and though it's gotten her in trouble, it's also gotten her out of it, too.
THE LOVE INTEREST
JOHN
John is one of the sexiest characters I've ever read about. and I have very much appreciation for that. But he's more than a gorgeous face. He wants to do the right thing, but sometimes he needs help figuring out what that is. Moreover, he genuinely care about Pierce and he's so, so sweet to her. I think I actually melted at some points in the book.
THE PLOT
I love the way Meg handles the retelling of the Persephone myth. It's not so much a retelling as a reimagining, and it's done with absolutely beauty and a bit of humor. I love the way the story unfolds, and though there's not a much retelling in this last book, what is there is gorgeous.
Pierce is a string heroine, and though she doesn't always make the right decisions, she tries her best to. This book strongly deals with the consequences of her actions, and she's strong enough to face up to them. She doesn't shrink away, and in fact often tries to take more blame upon herself than is strictly necessary.
There's also the secondary plot in this book, which is a really interesting one. Almost as interesting as the main plot. I liked watching Pierce and her friends fight for what was right.
THE ROMANCE
The romance is tastefully written, and it's sweet and intoxicating at the same time. Pierce and John are good together, and in some ways balance each other out. They really complement each other. Where Pierce is impulsive, John thinks things through more, and so forth. They're so good together, and I loved watching them grow as a couple. The secondary romance was also so, so cute.
THE WRITING
Meg's writing has improved a lot since her earlier series, and that growth is apparent in this book. The descriptions could use some work, but the world-building is awesome. It's set partially in a fantasy place in our world and partially in the Underworld, and Meg does an awesome job of differentiating the two.
THE ENDING
This book ended on a perfect note. It's absolutely beautiful. I love the way everything pulled together, neatly but not too neatly, if you catch my drift. It's like everything happened for a reason so that everything could lead up to this perfect ending, and I loved every minute of it.
WRAPUP
Awaken is one of my favorite ever books, and the absolute best Meg Cabot I've ever read. I seriously only have good things to say about it. Pierce and John are unforgettable characters, and I'll probably think of them often. I definitely recommend this series to fans of romance, and fans of mythology. It's a gorgeous retelling.

*****FINAL RATING: 4.65 RED ROSES*****





Lovelovelove,
Welcome!
Welcome to my young adult reading blog! Sparkles and Lightning has young adult book reviews with the occasional children's or adult's book review sprinkled in. It will also be totally and completely fun :) Have a look around, have some laughs, and most of all, have a perfectly sparkly, electric time!

About Me
I'm a university student and ballroom dancer who spends too much time curled up with a good book. Red roses are my favorite and I love a good love story.
View my complete profile

Blog Tours
Want me to be a part of your blog tour? Contact me and let me know.

Blog Love!

Blog Archive

Browse Reviews by Rating

Disclaimer
In accordance with the FTC Guidelines for blogging and endorsements, I am required to state that no payments are received in return for reviews, promotions and endorsements. All books are received at no cost from publishers or purchased by myself. I receive no monetary compensations for anything that appears on Sparkles and Lightning.